Lead Stories
Stormy season - Experts see greater uncertainty in weather forecasting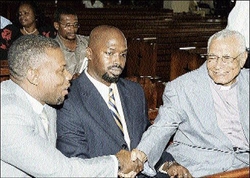 Ivan, Charley, Lili, Dennis, Claudette, Odette, Michelle and Gustav. The names are almost as familiar as the phenomenon. It is becoming an almost annual feature of life in Jamaica - the death and destruction associated with galloping tropical storms and fierce hurricanes...

News
Gov't considers placing Citrus Growers into receivership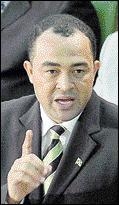 The Government is warning that it will not be reluctant to place the Jamaica Citrus Growers Limited into receivership if its board of directors fails to make certain critical decisions, by the end of this week, about the restructuring of the company....

Sport
Reggae Boyz lift standard in El Salvador stalemate
WASHINGTON, D.C., United States: What a difference a week makes. Jamaica bounced back from a disappointing performance against Haiti on May 23 to hold World Cup hopeful El Salvador to a 0-0 draw in a friendly football international at the RFK stadium here on Saturday night...
Commentary
EDITORIAL - Dwight Nelson crossed the line
It is not surprising that Dwight Nelson succumbed to the old affliction of Jamaican national security ministers being over-exuberant in their defence of the behaviour of the police, especially in addresses at the annual conference of the Police Federation...
Letters
LETTER OF THE DAY - Drawing the line between religion, responsibility and the State
The Editor, Sir: The letter in Saturday's Gleaner entitled 'Commish Lewin's disregard for a constitutional right' is quite misleading. To claim that the police commissioner's stance on the place religion should have in the force is an attempt to create...
Entertainment
Bands put on good show... but lengthy changes diminish overall impact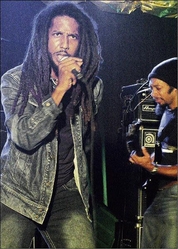 Taking the bands as individual units, last Friday night's Bands Incorporated concert on Lindsay Crescent, St Andrew, was an excellent show. C Sharp, Dubtonic, Rootz Underground and openers Pentatuche, although all playing overwhelmingly reggae...

Flair
Lois Samuels' the Vessel for CFW


These multi-seasonal garments draw inspiration from traditional menswear and industrial typologies, in particular, the suit and the uniform, a blend that creates a collection that is both absolutely comfortable and undeniably feminine....