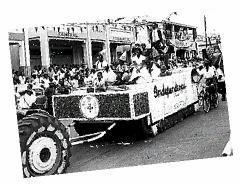 Left: Float parade passes through May Pen on Independence Day, 1962. - file photos
THE MARCH towards Jamaica's Independence in 1962 intensified as the fateful August morning drew near. Hope and promise surrounded the birth of a nation. Individuals, families and communities envisioned growth and development through hard work and commitment.
Existing businesses dreamt of expansion and new ideas lit up the minds of young entrepreneurs. Forty-seven years later, The Gleaner, which by 1962 had already witnessed and recorded more than a century of the island's history, teams up with Jamaica National Building Society, currently celebrating its 135th anniversary, and the Institute of Jamaica to present Jamaica Celebrates.
Beginning today, look out for stories under the Jamaica Celebrates banner, focusing on national achievement primarily through families, business and communities. We will also provide extensive colourful coverage of this year's Indepen-dence celebrations.
Our Jamaica Celebrates series will climax on August 4 with a mega keepsake feature about our island and its development since 1962. Don't miss your Gleaner on August 4.
Play your part in this celebration!

The Mandeville Creative Dance Group gestures during a performace.

If you were born in 1962
Got married in 1962
Got your first job in 1962
Graduated from school in 1962
Or had any other significant milestone in the year of Independence then:
Tell us your story ...
and send us photographs of yesteryear to editorial@gleanerjm.com or mail them to Kerry-Ann Hepburn, Jamaica Celebrates, The Gleaner, 7 North Street, Kingston.
You may also log on to our website at www.jamaica-gleaner.com for more information, or call Kerry-Ann Hepburn at 922-3500, Ext 6419.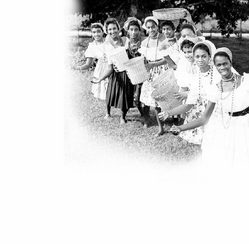 The Mandeville Creative Dance Group gestures during a performace.
Class of 1962