Stormy season - Experts see greater uncertainty in weather forecasting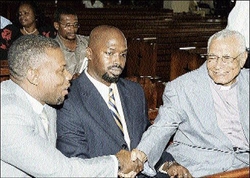 Ivan, Charley, Lili, Dennis, Claudette, Odette, Michelle and Gustav. The names are almost as familiar as the phenomenon. It is becoming an almost annual feature of life in Jamaica - the death and destruction associated with galloping tropical storms and fierce hurricanes...

Jamaica Celebrates - Building Our Nation, Our Family, Our Home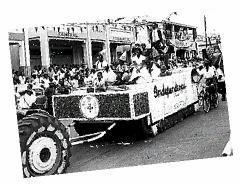 THE MARCH towards Jamaica's Independence in 1962 intensified as the fateful August morning drew near. Hope and promise surrounded the birth of a nation. Individuals, families and communities envisioned growth and development through hard work and commitment...

JN at 135 years
THE STORY of the Jamaica National Building Society (JNBS) is like a large tapestry tightly woven during 135 years in the provision of innovative home loans as well as savings products and services.

Cabinet to be updated on swine flu cases
Cabinet is to be officially briefed today on efforts to contain two cases of the influenza A H1N1 on the island. The cases were confirmed yesterday by the Ministry of Health in two Jamaicans who travelled to New York in the United States recently....

Pig farmer's brother arrested
The St Catherine South police have arrested a brother of pig farmer Gregory Gordon, who was shot to death while he tended to his animals on Friday night.Gordon's brother was picked up by the police about 6 p.m.

Old Harbour Bay community prepares for storm season
The community of Old Harbour Bay in St Catherine has had its fair share of woes caused by hurricanes.And so this year, several residents are seeking to be better prepared for the Atlantic hurricane season which begins today...

Electronic warning signs coming for the gorge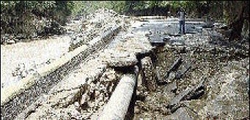 If things go as planned, before the end of the 2009 Hurricane Season, the Office of Disaster Preparedness and Emergency Management (ODPEM) will be installing electronic warning signals along the roadway leading to the Bog Walk gorge in St Catherine...

'Gilbert was my worst experience'


At 77 years old, Ronald Douglas has seen it all, but the nerve-racking experience of Hurricane Gilbert, in September 1988, has been his worst nightmare. He lost 18 sheets of zinc from his roof during the disaster...

VOX POP - Hurricane ghosts


The ghosts of hurricanes past continue to haunt many Jamaicans who suffered the loss of loved ones, property and peace of mind. From Hurricane Charlie in 1951 to Gilbert in 1988, and Gustav last year, Jamaicans have heard horror stories of the impact of...