Arthur Hall, Senior Staff Reporter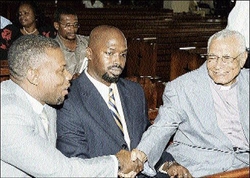 The Reverend Canon Weeville Gordon (right) shakes hands with Ronald Jackson (left), director general of the Office of Disaster Preparedness and Emergency Management (ODPEM), during the national church service to commemorate Disaster Preparedness Month at the Church of the Open Bible in St Andrew yesterday. Looking on is Richard Thompson, deputy general secretary of the ODPEM. - Ian Allen/Staff Photographer
Ivan, Charley, Lili, Dennis, Claudette, Odette, Michelle and Gustav. The names are almost as familiar as the phenomenon. It is becoming an almost annual feature of life in Jamaica - the death and destruction associated with galloping tropical storms and fierce hurricanes which take aim at the island during the Atlantic hurricane season.
In its initial outlook, the United States-based National Oceanic and Atmospheric Administration says global weather patterns are imposing a greater uncertainty in forecasting than in recent years.
The forecasters say there is a 70 per cent chance of nine to 14 named storms, of which four to seven could become hurricanes, including one to three major hurricanes (Category 3, 4 or 5).
Last year, Gustav was still a tropical storm when it moved along the coast of Jamaica, but it caused 15 deaths and left millions of dollars in damage.
The island was also threatened by Fae, Ike and Paloma during 2008 but none came within 135 kilometres of Jamaica.
That is a pattern that has emerged during the Atlantic hurricane season, June 1-November 30, since the turn of the century.
In every year since 2001, Jamaica has faced direct threats from hurricane activity.
In 2001, hurricanes Chantal and Iris placed the countryon hurricane warning. Michelle followed, initiating flash-flood warnings and causing the dislocation of numerous residents due to excessive flooding and landslides.
The year 2002 also had very close calls with Isidore and Lili requiring tropical-storm warnings as they passed within 50 kilometres of the island.
Tropical-storm warnings were also issued for Claudette and Odette in 2003 but they passed Jamaica almost unnoticed.
The impact on the country was significantly increased with hurricanes Charley and Ivan in 2004. Death and destruction was rampant with Ivan, whose centre passed nearly 40 kilometres from the island's southern coastline.
In the aftermath of Ivan, the approach of hurricanes Dennis, Emily and Wilma caused fear in 2005 but they failed to score direct hits.
Hurricane Ernesto was the lone threat for 2006 and caused the island to be placed on a hurricane watch.
In 2007, there were warnings for Dean, which passed just 40 kilometres from the island's coast and there were also tropical-storm warnings for Felix and Noel. Olga passed 265 kilometres of the north coast and prompted flash-flood warnings.
With sections of the island yet to recover from Gustav, The Gleaner takes you into The Eye of the Storm.
This is the start of our comprehensive coverage of the hurricane season which the experts agree is difficult to predict.
arthur.hall@gleanerjm.com
Look out tomorrow for our continuing storm-season coverage, including an eight-page hurricane feature.