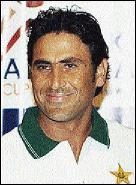 Khan
KARACHI, Pakistan (CMC):
Pakistan's captain Younis Khan has listed West Indies among the most potent teams in the ICC World Twenty20 tournament starting this coming weekend in England.
In a Times of India newspaper story yesterday, Khan picked West Indies, India and South Africa as the teams most likely to give his side tough competition in the WT20 from June 5.
Dangerous customer
The 31-year-old top-order batsman felt despite their recent poor performance against England, West Indies remain a dangerous customer in the shortest format of the game.
"India and South Africa are good and capable of winning the cup alongside Pakistan, but the West Indians can spring a few surprises," Younis said.
Khan said the Pakistanis have the necessary talent and experience to go the distance this time, if they are able to deliver top performances when necessary.
"In T20 cricket or, for that matter in any other form of the game, it is how you play on a particular day and how consistent you can be in your performances," he said.
A deterrent
Khan also ruled out lack of international exposure for Pakistan players as a deterrent.
"Our players are well versed in T20 cricket and that is why I am confident that if we play to our full ability and as a team, we can definitely win the cup, but we have to be on our feet all the time," he said.
Pakistan, runners-up at the inaugural tournament in South Africa (2007), will play in Group B alongside England and the Netherlands.
Group A has title-holders India, Bangladesh and Ireland, while Group C has Australia, Sri Lanka and West Indies, and Group D comprises New Zealand, South Africa and Scotland.