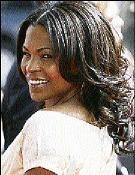 Nia Long - File
Award-winning, African American film star Nia Long returns to Caribbean Fashionweek (CFW), scheduled for June 10-15 at the National Indoor Sports Centre.
She will host CFW, which is staged by Pulse, and will also shoot segments of her latest movie project at the event.
Long is known for several film and television roles, including the The Fresh Prince Of Bel-Air, Big Momma's House and Are We There Yet?.
Pulse chief Kingsley Cooper said he was pleased to have Long for a second consecutive year.
"Nia's return is testament to the stature of CFW and the place it has now cemented in the firmament of international fashion," said Cooper.
Long will shoot segments of CFW, highlighting Cooper's role in the development of Caribbean and international fashion and modelling industries as part of her project. Earlier this year she shot segments of her film at Seventh on Sixth's New York Fashion Week.
Musical line-up
In addition to Long, Grammy-winning songbird Kelly Rowland will perform on Saturday, June 13. Jamaican stars Tami Chynn, Cherine Anderson and D'Angel will also be taking the stage.
Considered the largest, most far-reaching and strategically important fashion event in the region, CFW is an event not only of high international standard, but one that has become a catalyst for fashion-industry development in the Caribbean. Each year, it showcases the best of the Caribbean's designers, as well as other world-regarded stylists from various parts of the globe. Highly revered international designers who are confirmed to present at CFW include Deola Sagoe (Nigeria), Catalin Botezatu (Romania) and Gavin Douglas, all of whom have shown at the major collections of New York, London, Paris or Milan.
Approximately 50 designers from 20 countries participate each year.