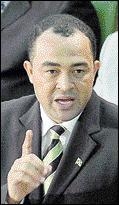 Tufton
The Government is warning that it will not be reluctant to place the Jamaica Citrus Growers Limited into receivership if its board of directors fails to make certain critical decisions, by the end of this week, about the restructuring of the company.
The company is now facing bankruptcy following liquidity problems that commenced in 2006.
The Ministry of Agriculture intervened in the interest of the island's citrus farmers earlier this year after financial statements revealed the company's net assets worsened to nearly minus $175 billion last year from a little over minus $86 billion in 2007.
It outlined a proposal to the company to finance this year's crop, on the condition that the company would undergo major restructuring which should include engaging its equity partner as well as the current board and management giving up some of the control they currently have.
The restructuring exercise would involve a major capital injection of close to $500 million which should be provided by private partners.
Critical decisions
However, Agriculture Minister Dr Christopher Tufton said yesterday that the board has been "dragging its feet" in making those decisions about the restructuring exercise.
"If they don't make the critical decision this week, then the creditors, which essentially involves the Government, would have to consider other critical options and would not rule out the receivership option," Tufton warned.
The company, which is the commercial arm of the Citrus Growers' Association, has been in poor financial health since 2006 after the company borrowed $50 million from the Government to purchase fruit from farmers but failed to service the loan in the scheduled period, forcing the Government to extend the loan-repayment period from March 2007 to July 2009.
It then borrowed a further $70 million, the following year, from the Development Bank of Jamaica. That loan is now in arrears.
The Ministry of Agriculture commissioned a management audit and business plan in February 2008, which indicated that the factory has been operating at a capacity of less than 25 per cent for many years, resulting in underutilisation of assets.
The business plan further outlined that the modernisation of the Citrus Growers' Association and its subsidiaries would require approximately $793m in capital investment.