Arthur Hall, Senior Staff Reporter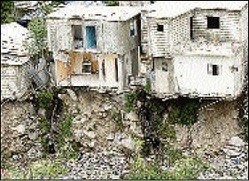 Precariously perched, these houses are located on the bank of the Hope River, which runs through the communities of Kintyre and Tavern in St Andrew. - Ian Allen/Staff Photographer
When the Hope River is in spate its bark can be heard for miles while its bite brings death and destruction to scores of residents who have made their homes on its banks.
Last year, as Tropical Storm Gustav swiped the island, the roaring water of the Hope River claimed more than one dozen houses and four lives from the East Rural St Andrew community of Kintyre.
One year later, scores of residents continue to live in houses perched on the banks of the river with only a hope and a prayer keeping them from certain destruction.
"We know is a risk but we have nowhere to go," one resident declared last week as she nervously looked towards the start of another hurricane season.
"I would like to move tomorrow but move to where because this is the only land I have now," another neighbour said.
Rules of engineering
On a visit to the community, the Gleaner team found houses which remain standing in defiance of all the rules of modern engineering while other houses have cracks the size of small windows.
On St Joseph Road, what was the roof of one man's five-bedroom house is now the floor of a new two-room dwelling.
"What really happen is that there is a gully beside me and that come down and block up so the water turn over my house and give me a complete mash-up, so me have to build a little two room," George Gaubault told The Gleaner.
"Me whole family gone left me but is from 1977 me is here and me nah move. Is 30 years me work for the Government and this happen to me and me no get no help," Gaubault said as he stood on what was his roof less that one year ago.
Next door, a landslide has placed another house at a steep angle reminding the Gleaner team of the 'Giddy House' in Port Royal, Kingston.
Gaubault noted that land slip-page during Gustav moved houses several for metres and changed the entire landscape in sections of Kintyre.
Kenrick Oakley watched help-lessly as the flood water and landslide associated with Gustav rushed through his house moving the entire structure more than 20 metres from where he had built it.
Now when you enter his front door it is all downhill to the back door, which is several metres lower.
"The entire hillside is coming down and maybe the next disaster will finish my house," Oakley said.
"You see this mango tree, it was way up the top and we used to go beg the people mango but since Gustav moved the tree, it is they who are now begging us mango from it," Oakley added.
Inevitable destruction
His neighbour 'Victoria' seems poised to accept the inevitable destruction which will come if the island is brushed by a tropical storm this year.
"I hope I don't have to go through what I had to go through last year, but what is to be must be," 'Victoria' said.
She said efforts have been made to contact the authorities to see if her family could be relocated but so far nothing has happened.
"It must be because we don't have no political connection," one resident of St Joseph Road said.
Last year, in the immediate aftermath of Gustav, Prime Minister Bruce Golding told Parliament that displaced persons would get help in recovering from the effects. In particular, he said assistance would be provided to rebuild or repair affected houses.
Golding also announced that members of parliament would receive $2 million to assist constituents who were hard hit by the tropical storm.
After looking at the devastation caused by the Hope River, Golding also announced the creation of a task force to clamp down on the construction of houses along its banks.
Weeks later, Minister of Water and Housing Horace Chang presented two residents of Kintyre, Devon Miller and George Campbell, with new houses.
The two-bedroom structures were built from funds provided by the ministry and the charity group, Food For the Poor.
Miller and Campbell had lost their houses during Gustav.
Campbell's parents, Leonard and Hannah Campbell, perished in flood waters when the Hope River breached its banks, sweeping away their house.
arthur.hall@gleanerm.com