Foster-Hylton tops them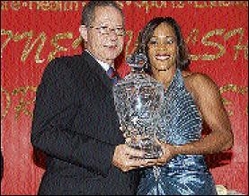 World 100 metres hurdles champion, Brigitte Foster-Hylton, is the fifth recipient of the Courtney Walsh Award of Excellence. She won the award at a glitzy award ceremony at The Jamaica Pegasus on Wednesday night to cap what she identified as the most successful season ...

Norman Manley seal Walker Cup berth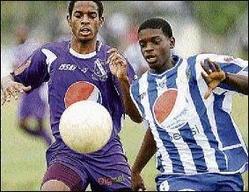 Norman Manley High secured their place in the next round of the Manning Cup and also booked their Walker Cup spot when they turned backed Kingston College (KC) 2-0 in their ISSA/ Pepsi/Digicel match yesterday at the Tinson Pen playing field....

Cornwall win sets up big clash
Western Bureau: It was a case of mission accomplished yesterday afternoon for many-times champions Cornwall College, who benefited from a defender's goal to clip home team Spot Valley High School 1-0 in their crucial Zone A...

Francis expects Girls to give good show against Aussies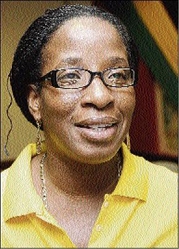 Sunshine Girls coach, Connie Francis, said yesterday that Jamaica will be using the upcoming National Commercial Bank (NCB) Sunshine Series to make a statement to netball powerhouses Australia and New Zealand."This weekend is a big one for us to show Australia...

Reggae Boyz XI brush aside Seba 3-1
Western Bureau: A Reggae Boyz XI, showing superior coordination and poise, easily brushed aside the Seba United Invitational team 3-1 in their exhibition game which was played at Jarrett Park in Montego Bay on Wednesday night.

Stars fly in today for Gayle's Pro 15/15
A host of past and present West Indies players, including Richie Richardson, Curtly Ambrose, Ridley Jacobs, Ramnaresh Sarwan, Dinanath Ramnarine and Sulieman Benn, are scheduled to arrive today to join their Jamaican counterparts...

Best Man to rebound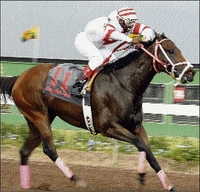 Upsets by KEELER (30-1), REGAL SELECTION (29-1) and QUATRO MORO (25-1) ensured there would be a Pick-9 carryover at Caymanas Park today.Only two punters spotted eight of nine to claim consolation prizes of $85,940 each,...

Ghana, Brazil Under-20 showdown
CAIRO (AP):Ghana will be looking to become the first African team to win the Under-20 World Cup and stop South America's dominance when it plays Brazil in the final today.Ghana lost finals to Brazil in 1993 and Argentina in 2001, while Brazil hope to...

Honduras in World Cup - the country celebrates
MEXICO CITY (AP):Honduras' 1-0 victory at El Salvador, which earned the tiny, troubled Central American nation a place in next year's World Cup, drove thousands to the streets on Wednesday to celebrate in the capital Tegucigalpa.Honduras needed a little...