Noel Thompson, Gleaner Writer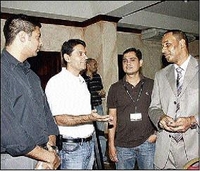 First Global Financial Services' (FGFS) Dean McDonald (right) listens as members of the Provisional Rotary Club Sunrise engage him at the breakfast meeting. Club members (from left) are Roshan Mahtani, Haresh Ramchandani and Sajjan Bharwani. - Photos by Noel Thompson
WESTERN BUREAU:
Seasoned Rotarians and some newcomers to the internationally recognised service club were treated to a wealth of knowledge, relating to the current global financial situation at the Sandals Royal Caribbean in Rose Hall, Montego Bay, on Tuesday, October 6.
Dean McDonald, vice-president for portfolio management and research at First Global Financial Services (FGFS), took his team to the Rotary Club of Montego Bay's weekly luncheon.
This was followed by a breakfast meeting with members of the Provisional Rotary Club of Montego Bay Sunrise at The Wexford Hotel in the city on Wednesday morning. This meeting was geared to connect with young entrepreneurs and budding businessmen in the city.
McDonald highlighted the importance of the businessmen and Jamaicans exploring their financial options, including investing in various instruments locally and overseas.
'Good recession'


Denton Campbell (right), Dean McDonald, vice-president for portfolio management at First Global Financial Services, and Suzette Ramdani, business development executive, in discussion at the luncheon.
"Ultimately, you should not let a good recession go to waste because prices are depressed, whether in real estate or stocks and bonds, so we believe that investors should take advantage of undervalued financial assets, such as commodity-based stocks involved in copper, gold and oil mining," he urged the Rotarians.
FGFS and Rotarians equally felt the meetings were necessary and timely given the current instability in the global financial sector.
"There is a lot of uncertainty, locally and globally. Current trends in the economy and how soon we expect to see a recovery are also uncertain. Things have somewhat stabilised but we are far from seeing evidence that the economy is going to be on a fast-growth path for 2010, McDonald stated.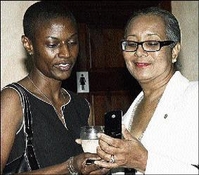 Tricia Martin (left) of First Global Financial Services and Maria Ho-Sue check out the picture on a cellphone at the conclusion of the breakfast meeting.