No pay, no play - Transport, NTCS heading for new clash over licensing fees - Talk to my lawyers, says Millwood
Mark Titus, Business Reporter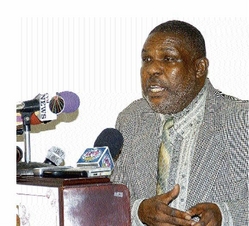 Ezroy Millwood speaking at an NTCS press conference at the Hotel Four Seasons yesterday. - Peta-Gaye Clachar/Photographer
Government's private bus partners have paid down a $12-million debt, but now transport officials are saying it was a fraction of what is owed and have put a December 2 deadline on the payment schedule for the rest.
The Ezroy Millwood-led National Transport Cooperative Society still owes another $38 million in licensing fees for 2009, a fee that Dr Alwin Hales, permanent secretary in the transport and works ministry, insists should be easy for the bus owners to pay.
The fees already paid relate to fees incurred in 2008, and it brings the total paid by Millwood's group for the April to December period of that year to $31 million, according to Jamaica Urban Transit Company (JUTC) from which NTCS has a subfranchise to operate within the Metropolitan Kingston Transport Region.
Negotiating a new deal
But Millwood, who two weeks ago said he had been told he owed monies for 2009, but had failed to elicit a figure from the transport officials, has struck back that this new debt was manufactured as a plot to stop him from negotiating a new deal with the Government.
"Talk to Mr Patrick Bailey and Trevor Hamilton about that," said Millwood, referring to the cooperative's lawyers. "Our records don't show that and I am not going to be pushed around by media or anybody else, because I am sure we don't owe that amount."
On Thursday, Millwood said his records indicate an outstanding bill of $6 million only for January to March. He did not address the remaining months.
JUTC countercharges (see statement on Page 4) that NTCS was advised of the fee, and was contesting it, adding that not a penny of it had been paid.
"That is a small amount of money, I am sure they can pay it," said Hales of the current bill.
"They are just being difficult."
Millwood has a different take. He says the amount owed by NTCS for 2008 was $42 million, and that the cooperative had paid most of it, leaving only $6 million.
His lawyers and transport officials are haggling over the issue, he said.
Poor credit history
Millwood was not always on time with payments and it was this poor credit history that the Government cited when it decided to end the arrangement and pull NTCS's licence.
The cooperative continues to operate, however, under a temporary arrangement that ends when the transport ministry rolls out a revised bus system. NTCS is to wind down operations by December 2.
Millwood suggested the cooperative was backed into a corner, saying Government tripled the annual rate for the licence from $4,500 per seat in 2007 to $13,600 in 2008.
Hales did not say how the 2009 fee was calculated.
But, at the $13,600 per seat rate for the 164 buses it represents - comprising 39 small units with seating for 10 passengers and 125 Coaster buses with a carrying capacity of 30, a count confirmed by Millwood last week - the fee should have amounted to $56.3 million, and not $38 million as quoted by JUTC.
NTCS covers some its obligations to Government from membership fees levied on bus owners.
Large units pay $55,000 while the smaller 10-seaters pay $35,000, but according to Financial Gleaner calculations - assuming full compliance - the fees amount to revenue of $8.24 million per year for the cooperative.
Millwood wants a new deal under the new system, that is testing a more standardised service and a move towards cashless bus rides over time.
Millwood charged that his latest fight with Government is designed to place roadblocks in his way, while clearing the path for others to get into the public transport business - a charge JUTC spokesman Reginald Allen denies, saying the new licences will not be issued before December and that applications have not yet been invited.
New arrangement
A door has been left open for NTCS to secure a new arrangement, but only if the quoted 2009 debt is repaid.
"The policy of the ministry is that they will be considered if they make good on the monies that are owed, but if they are not keeping up with their contractual obligations, they will eliminate themselves from the process," said Hales.
The cooperative has been operational since 1995, and over the years has collided on different issues with Government, the most substantial of which was a legal dispute over the bus company's franchise that the state pulled in 2000.
Ended up with nothing
NTCS initially won in court and was awarded $3.7 billion, but lost the legal battle when the case went to arbitration. The bus owners ended up with nothing.
But the Government continued doing business with the group through a sublicence from state bus service JUTC.
The transport ministry's plan for an improved, cohesive service within the Kingston metro region will kick off, once all routes are put back under JUTC's direct control.
"The ministry, through JUTC, hinges the future on two factors," said Hales said. "One is the refurbishing of some of our buses, and that is now taking place, and the purchase of 200 new buses which will begin arriving at the beginning of March next year."
mark.titus@gleanerjm.com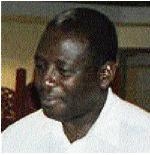 Dr Alwin Hales, permanent secretary for transport and works.