Published: Wednesday | July 22, 2009
Class Acts: Hemmingay Preparatory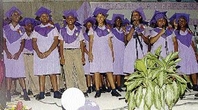 Students of the Hemmingay Prep in Montego Bay, St James, sing during the school-leaving ceremony.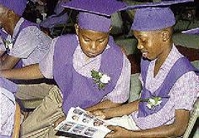 Stetan Morris (left) and his pal Jomo Reynolds view photos of their schoolmates.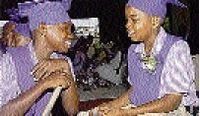 Matthew Williams (left) and friend Anthony England spare a moment to reflect on their time at Hemmingay Preparatory and Kindergarten School during their graduation ceremony. The event was held at Westgate Baptist Church in Montego Bay on Sunday, June 28. - Photos by Noel Thompson
You're a winner!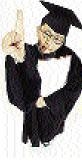 Valedictorian Gisella Campbell is animated as she praises Hemmingay's graduates for their achievements.
Gisella Campbell is today's lucky winner of a Sangster's Book Stores gift certificate. To collect your prize, contact Kerry-Ann Hepburn at 922-3400, ext: 6419 or email: kerry-ann. hepburn@gleanerjm.com
Send photos from your graduation ceremonies in June or July, along with detailed captions, and we will publish them. Email to editor@gleanerjm.com or drop off at 7 North Street, Kingston.