Daraine Luton, Senior Staff Reporter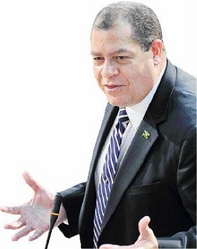 Audley Shaw, Minister on Finance and the Public Service speaks in Parliament yesterday. - Rudolph Brown/Chief Photographer
FOURTEEN YEARS after the nation ended its borrowing relationship with the International Monetary Fund (IMF), the Government has admitted it has no choice but to return to the multilateral lending agency.
In a statement to Parliament yesterday, Minister of Finance and the Public Service Audley Shaw said Cabinet on Monday gave approval for a re-engagement with the fund.
"Cabinet yesterday authorised me to make a formal application to the IMF to seek to borrow up to 300 per cent of quota (approximately US$1.2 billion) in the standby agreement," Shaw told Parliament.
"We expect to complete the preparatory work and documentation by mid-August and to make a formal submission to the executive board of the IMF when it resumes in September."
Then Prime Minister P.J. Patterson, during a People's National Party (PNP) annual conference in September 1995, bid 'goodbye' to the international lending agency which the country first approached for budgetary support in the 1970s.
"Goodbye, ta-ta, au revoir," Patterson said to thousands of cheering PNP supporters.
The nation's relationship with the IMF became tense in the late 1970s and 1980s as a result of strict conditionalities such as a public-sector wage freeze, increase in interest rates and other belt-tightening measures.
Yesterday, stone-faced parliamentarians sat inside Gordon House and listened attentively as Shaw outlined the rationale for and process of Jamaica's return to the fund.
The finance minister, saying the country was facing tough times, pointed to a fallout in foreign-exchange earnings and capitalflows; a scarcity of loan funds on the international capital market; as well as "the prospect of a severe contraction in the local economy beyond the present crisis", as he painted a picture of Jamaica being caught between a rock and a hard place.
"Jamaica has no real option at this time but to return to a borrowing relationship with the IMF," Shaw said.
The nation faces a balance of payment gap of US$600 million - US$800 million this fiscal year, meaning the country would barely be able to pay for its imports.
The economy has been crumbling under the weight of the global economic meltdown, with the finance ministry stating that the country will lose approximately US$1.3 billion in revenue this year as a result of a fallout in bauxite, remittances, tourism and other sectors.
Economic woes
Revenue collection by the government fell J$5.5 billion short of projections two months into the fiscal year.
Consequently, as economic woes threatened to paralyse the country, the Government cut its projected spending by J$3.4 billion.
Shaw said the country was still in a position to manage its housekeeping expenses but admitted help was needed.
He noted that the IMF board has already approved a general allocation of $250 billion in special drawing rights (SDR), among member countries, which is likely to be ratified by its board of governors. Jamaica's share of this allocation would amount to US$320 million in loans before the Annual IMF/World Bank meetings in October.
The IMF had established a special standby facility to assist developing countries such as Jamaica take care of their balance-of-payments obligations and keep their economies afloat.
Shaw said the signing off on the standby arrangement by Septem-ber, in which the fund would commit $1.2 billion over two years, would provide Jamaica with the wherewithal to meet all its external commitments.
"It would be expected that at least US$400 million of the stand-by arrangement would be available up front," he said, adding that Jamaica would also be looking to raise up to US$500 million from other multilateral sources.
While the arrangement will require the country to be run more efficiently, Shaw said there would be no drastic layoff of government workers.
Responding to Central Kingston MP Ronald Thwaites, on the question of possible retrenchment of public-sector workers, Shaw said "there is no immediate plan of the Government to provide any kind of shock treatment to the public sector".
"Certainly, attention will be paid to attrition and the replacement of jobs that are normal jobs in terms of retirement and so on ... unless it is a critical post ... retrenching that post with new employment. We will be considering retrenchment, transfer and so on, rather than new people being employed," Shaw added.
daraine.luton@gleanerjm.com

What Gov't must do
During exploratory discussions, the International Monetary Fund outlined three areas it would like to see strengthened as part of a foundation for medium-term stability.
a) Consolidation of public enterprises, i.e. a structured approach to minimising the impact of these enterprises on the accumulation of debt. This would include divestment, mergers and improvements to governance that would minimise financial losses.
b) The formulation of a debt strategy for the medium term that will relieve the extraordinarily high debt-service burden. While the Government has always worked towards achieving the objectives of its annually reviewed debt strategy, there is scope for bringing social partners into agreement to enable more equitable burden sharing.
c) Steps towards limiting the size of future deficits: These will include legislating guidelines for fiscal responsibility, streamlining the civil service and enhancing tax administration.
- According to Minister of Finance and the Public Sector Audley Shaw, the most pressing issue facing the country is for immediate consideration among stakeholders for a "compression of government spending in the current fiscal year to meet the limits set by available borrowing".