'Farmer' reaps Silver Pen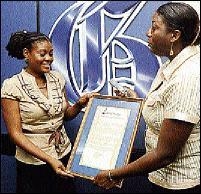 Marcia 'Moriah' James, a 36-year-old farmer at heart, was yesterday honoured with The Gleaner's Silver Pen award for the best Letter of the Day published in May. James' letter titled 'Disingenuous push on agriculture' was published in The Gleaner on May 9.

Wehby is perfectly capable - Golding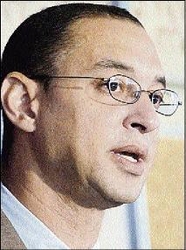 Prime Minister Bruce Golding has brushed off criticisms being levelled at his administration because of the absence of Finance Minister Audley Shaw from a team that recently held talks with the International Monetary Fund (IMF)....

Second murder in two days rocks communities out west
A prominent businessman in Little London, Westmoreland, Stanley Davidson, known to many as 'English', was gunned down at his home Thursday morning.The 68-year-old board-house manufacturer was at his home around 7 a.m. when he was attacked by armed men demanding money...

Security minister takes parish-by-parish crime initiative to Clarendon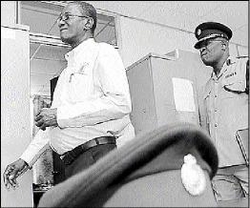 The second in a series of public forums on crime was held at the St Gabriel Anglican Church Hall in May Pen on Wednesday. Dwight Nelson, who has been holding the series of forums, said Clarendon was becoming "a major crime citadel of the country" and listed...

Bartlett announces big plans for Ocho Rios
Tourism Minister Edmund Bartlett has said $500 million from the Tourism Enhancement Fund (TEF) has been earmarked for a comprehensive upgrading of the resort town of Ocho Rios and its environs...

Victims of human trafficking to benefit from shelter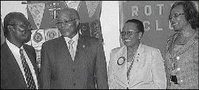 Minister of Justice and Attorney General, Senator Dorothy Lightbourne, has said plans are well advanced for the establishment of a shelter for victims of human trafficking. Senator Lightbourne made the announcement during her opening address on Wednesday...

Turning point - Seventh-day Adventist school works out programme to change wayward students
"I was a troublemaker, I loved to fight and if you can't defend yourself I would pick on you and make others laugh," explained 18-year-old Ricardo Logan, as he recalled his early years at a high school in Kingston. The teen revealed that between classes...

HIV result error ruined my life! - Health authority sued for stressing woman
A St Ann woman who was informed that she was HIV-positive when she attended the St Ann's Bay Health Centre has sued the Government to recover damages for the emotional stress she suffered as a result of the false information...

Episcopal Church says yes to gays and lesbians
NEW YORK (AP): Episcopalians declared gays and lesbians eligible for "any ordained ministry" Tuesday, a vote expected to upset world Anglican leaders who had sought a clear moratorium on consecrating another gay bishop.