Published: Friday | July 17, 2009
Class Acts: Praise Chapel Prep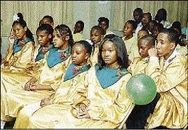 Graduates of the Praise Chapel Kindergarten and Preparatory School in Mount Salem, St James, listen attentively during their graduation ceremony on June 30. At right, Anastajia Beckford gives the valedictory speech. Principal Consuelo Ricketts said the institution, which was founded as a basic school in 1998, now has an enrolment of 174 students. - Photos by Noel Thompson
Send photos from your graduation ceremonies in June or July along with detailed captions and we will publish them. Email to editor@gleanerjm.com or drop off at 7 North Street, Kingston...
---
A Gleaner reader's milestone

Thirty-seven children aged five will move on to primary education from the Denham Town Basic School. June Daley, patron of the institution, hands out a prize to one of the outstanding achievers. Daley, who was the guest speaker at the school-leaving ceremony recently, has been actively engaged in fund-raising in London to assist the school's much-needed development. To date, she has raised funds to purchase a stove for the nutrition programme and to repaint the walls of the school with murals depicting childlike characters and themes to support the curriculum delivery to students. - Contributed
---
Harding Hall Prep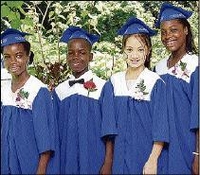 Graduates of the Harding Hall Preparatory School in Hanover strike a picture of brilliance after their graduation ceremony on June 24. From left are Camille Kiffin, Romesh Gordon, Tiffany Zheng and Kashacale Hendricks. Zheng, the valedictorian and the 2009 Hanover Spelling Bee champion, scored a 94 per cent average in the GSAT. - Photos by Noel Thompson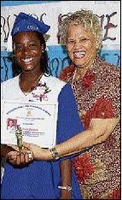 Kashacale Hendricks (left), a graduate of Harding Hall Preparatory School in Green Island, Hanover, collects her certificate from Evangeline Clare, chairperson of the school board.