Carib Cement silo collapses - Construction work suspended, investigation under way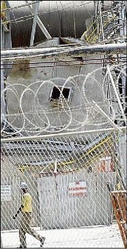 An employee of Caribbean Cement Company Ltd walks past a fallen silo at the company's property in Kingston yesterday. - Ricardo Makyn/Staff Photographer
Caribbean Cement Company Limited (CCCL) has suspended construction work for one week and ordered an investigation into the circumstances surrounding the collapse of a silo at its new state-of-the-art mill.
This comes at a time when the Trinidad-owned company is preparing to commission the new facility into operation.
CCCL recently wrapped up a US$177-million expansion that is expected to grow capacity to 1.8 million tonnes of cement.
However, according to Alice Hyde, marketing manager at CCCL, the company was not focusing on the setback, but was more concerned about the welfare of its workers.
"We are more concerned about safety at this point, and will be closing the construction site for about a week," she told The Gleaner. "This will allow for us to call in experts to evaluate the damage, after which we can determine the way forward. But, for now, our main concern is safety."
Supply adequate
According to Hyde, the incident would not affect its day-to-day operations as there was adequate cement to meet the demand of its customers.
Last week, Carib Cement reduced the cost of its product by some 5.6 per cent in a one-week promotion geared at reducing the more than 40,000 tonnes of cement in its inventory.
This was to make warehouse space for the additional volume that its new kiln and cement mill are churning out.
"Despite exporting more than 38,000 tonnes of cement this year, and 96,004 tonnes of clinker since the new kiln started, the soft market, plus unfair competition from dumped cement, have eroded the company's market share," stated a news release from CCCL yesterday.
According to the release, the operational plant was not affected by the accident.
"We are in the process of commissioning our new cement mill and we need silo space," Hyde has stated.
"So, as part of the whole commissioning activity, we need to make space in the silo so that we can run products from our new cement mill into these silos."
mark.titus@gleanerjm.com