Keisha Hill, Staff Reporter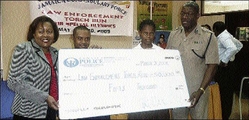 Linda Miller (left), general manager of the Jamaica Police Co-operative Credit Union, hands over a sponsorship cheque for $50,000 to Deputy Commissioner of Police Owen Ellington (right) and Special Olympians Matthew Tarawali (second left) and Monique Brown at the launch of the Jamaica Constabulary Force's Law Enforcement Torch Run at the Police Officers' Club on Tuesday. - PHOTO by Keisha Hill
The Jamaica Constabulary Force (JCF) launched its flagship sponsorship drive, the 'Law Enforcement Torch Run', to raise $2 million for Jamaica's Special Olympians' journey to the 2011 World Summer Games in Athens, Greece.
The JCF's biannual torch run is a series of relays by the country's enforcement officers which will commence in Kingston at Half-Way Tree Square on Thursday, May 14, at 9 a.m.
It will pass through all 14 parishes across the island before ending at the Elletson Road Sports Complex in Kingston on Saturday, May 30.
Community policing
The launch, which took place at the Police Officers' Club yesterday, saw Supreme Ventures Limited, Digicel Jamaica and Jamaica Police Co-operative Credit Union handing over cheques with an accumulated value of $350,000 to the support of the Special Olympians.
Deputy Commissioner of Police Owen Ellington stated that the JCF was the first police force in the English-speaking Caribbean that continued to support Jamaica's Special Olympics through all possible mediums.
"The run embodies what community policing is all about and that the police are motivated and encouraged by the positive inspiration that events such as these are having on the development of the youth," DCP Ellington said.
He also thanked the sponsors, the police and everyone who will be contributing in any way to the Torch Run.
The World Games, which promises to be one of the world's largest multi-sport and humani-tarian events, will unite 7,500 athletes from more than 170 countries.
Extremely grateful
"We are extremely grateful to the JCF," said Lorna Bell, executive director for Jamaica Special Olympics.
"They have been on board for over 30 years. We have developed an excellent relationship and relations like these are definitely from God. The JCF continues to give these persons with intellectual disabilities a chance which is important if we are serious about nation building."
She added: "The Jamaica Special Olympics delegation is grateful for the support that we have been receiving from Jamaica's law enforcement, Digicel and other corporate entities. We urge other corporate citizens to come on board to support our Special Olympians."
An 18-member Special Olympics team recently participated in the Winter Special Olympics in Boise, Idaho. It copped a total of five medals, two gold, one silver and two bronze.