A fisherman's regret


He's quickly approaching 50 and is now in a semi-stable job making decent money, but fisherman-turned-gardener Haniff Parchment can't let go of a more than 20-year grudge he has with a 1980s tv weatherman. "Dat man used to make the fishing ting difficult, for is like him ...

'My life is a miracle' - Roller-coaster ride from ward of the state to insurance guru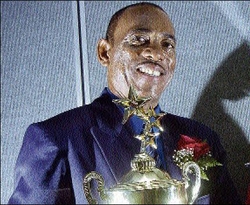 Growing up in an impoverished state-run home in Savanna-la-Mar, Westmore-land, during the 1950s, starved of most basic amenities, would have provided a good excuse for anyone wanting to give up on life. But harsh living conditions were not enough to deter Errol Thompson...

Churches help members to cope with recession
Churches across Jamaica say they have been intensifying efforts and reformatting programmes to help members cope with the global financial meltdown which has triggered production cutbacks and job losses. Pastor Adrian Cotterell of the East Jamaica Conference...

Trial begins today for man 'saved' by Robertson
The trial of a man who was allegedly rescued by Minister without Portfolio James Robertson begins in the Gun Court today.An early trial date was set by Supreme Court judge Bryan Sykes Monday for Rameish Simpson of White Horses, St Thomas...

Ministry moves to regulate unregistered basic schools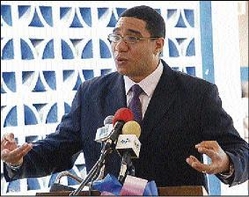 The Early Childhood Commission is in the process of developing a programme to re-engage early childhood institutions which are yet to apply for registration, said Andrew Holness, minister of education. Speaking last Thursday during a press conference,...

Jamaican con man among America's Most Wanted
He's a smooth talker, with an angelic face, said to be on a mission for God. This is the description police give for 41-year-old Lerron Carlton Heslop, the latest Jamaican to be placed on the America's Most Wanted (AMW) list. Heslop is being sought...

MPs row over crap
OPPOSITION MEMBER of Parliament (MP) Roger Clarke was on Tuesday thrown against the ropes by Government MPs led by Agriculture Minister Dr Christopher Tufton, who accused him of fomenting fear for political gain. Clarke was posing questions to Tufton...

Pyne report to be sent to Medical Council
Health Minister Ruddy Spencer has been instructed to send a copy of the National Chest Report to the Medical Council of Jamaica with a view to holding an enquiry to determine the future of Dr Dennis Pyne, a consultant general thoracic surgeon at the facility...

Medical council sends Pyne case to lawyers
The Medical Council of Jamaica has handed over the National Chest Hospital Report to its attorneys for advice before it proceeds with an enquiry into allegations that have been made against Dr Dennis Pyne. Pyne, a consultant general thoracic surgeon...