Adrian Frater, News Editor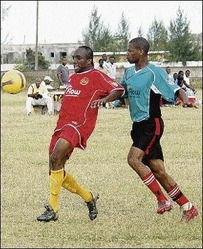 Village United's Troy Smith (left) controls the ball ahead of Brazil's Anthony Evans, in yesterday's Flow Champions Cup game at the Elliston Wakeland Youth Centre. Village won 3-0. - photo by Adrian Frater
Western Bureau:
Village United made it two wins from two starts in the Flow Champions Cup, blanking Brazil 3-0 at the Elliston Wakeland Youth Centre in Falmouth yesterday.
"Our plan was to strike early today and we did, and it led to us getting the result we wanted," said Mervin Whyte, coach of the Village United team. "We would love to take this form into the Premier League."
Extra-time win
In the other two games that were played in western Jamaica yesterday afternoon, Boys' Town registered a hard-fought 3-0 extra-time win against Hanover's Central FC at the Rusea's High School Ground in Lucea, while Reno FC handed their Digicel Premier League counterparts St Georges a 2-1 defeat at Frome Sports Ground.
In the game in Falmouth, Village United made it look like a stroll in the park against the St Ann-based Brazil as they dominated throughout. In fact, had they converted half of their chances, their opponents could have left the venue quite embarrassed.
Radcliffe Hall (14th), Troy Smith (33rd) and Everette Mullings (79th) scored for Village.
In the game at Rusea's High School, Central held on grimly against Boys' Town for the first 90 minutes. However, they capitulated in extra time as Robert Scott, in the first period of extra time, George Vernal from the penalty spot after 109 minutes, and Kemar Petrekin, who scored moments from the final whistle, netted for Boys' Town.
At the Frome Sports Ground, the prolific Gary McIntosh was the man on target for Reno FC, getting both goals to send the Geoffery Maxwell-coached St Georges packing.