Athaliah Reynolds, Staff Reporter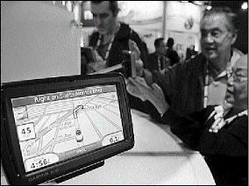 Attendees try out a Garmin Nuvi 880 GPS device in Las Vegas, Nevada. Garmin is the approved brand which will be used by the Mona GeoInformatics Institute. - AP
Ever got lost on a lonely road in a not-so-desirable part of Jamaica? This scenario might be quite frightening for many individuals, especially in recent times, when safety has become a major concern.
Finding your way across the island has become much easier as the Mona GeoInformatics Institute (MGI) is set to launch the country's first Global Positioning System (GPS) today at the University of the West Indies, Mona.
Popular in America
GPS navigation has become popular in North America and Europe, but the product remains a novelty in Jamaica.
The navigational system is an autonomous in-car GPS portal that allows for place-to-place navigation anywhere in Jamaica and also serves as a real-time digital road map. The system is different from a tracking system in that there is no vehicle tracking involved. There is only direct interface between the user and the system.
Dr Parris Lyew-Ayee, director of MGI, said there is potential for the development of a whole new subculture in Jamaica with this new product.
"So many uses can emerge that we do not foresee right now," he said.
With the system featuring nearly 10,000 kilometres of roads and more than 14,000 points of interest, arranged in 69 categories, including restaurants, hotels, shops, theatres and banks, there is an opportunity for the product to become a necessity for most companies and individuals.
The multimillion-dollar project took MGI two and half years to complete and is now fully accessible to anyone anywhere in Jamaica.
athaliah.reynolds@gleanerjm.com

Prospective users can buy their own GPS units and take them to MGI to be programmed or MGI will provide the unit at an additional cost.
Packages start at
J$31,000 (including unit)
US$115 (If you have your own device)
Only Garmin range devices are supported.
How it works
Using a navigation device, individuals can type in the name of more than 10,000 places in Jamaica and the navigation system will automatically plot the best route to that location from the individual's current position, calculating this using the fastest or shortest route available.
However, Lyew-Ayee was quick to point out that unlike other navigation systems in the United States or other parts of the world, Jamaicans would not be able to find specific addresses.
While the user will be able to locate streets, it will not map specific addresses. For example, the system will not identify 7 North Street, but the user will be able to find The Gleaner Company or the Ministry of Labour and Social Security, both sited at North Street.
The reason for this, said Lyew-Ayee, is that the address system in Jamaica was not standardised, unlike many other countries.
"So Kingston might have normal addresses, while Portmore has a different style of addressing and so does Chapelton in the middle of Clarendon and Knockpatrick in Manchester," he said. There is basically no set address system used across the island.