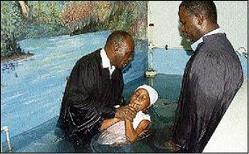 Eight-year-old Angel Blake (centre) is prepared for baptism by the Reverend Ronald Blair and Leopold Porter (right) during watchnight service at the New Testament Church of God at 65 Waltham Park Road on Wednesday night. - Peta-Gaye Clachar/Staff Photographer
Bracing for what lies ahead in 2009, thousands attend churches Wednesday night hoping for the New Year to bring greater prosperity than 2008.
Some persons who spoke with The Gleaner Wednesday night said it was their first time attending a watchnight service to ring in the New Year.
"I am just looking for a change," said 25-year-old Alicea Dormer, who accompanied her mother-in-law and a neighbour to the Fellowship Tabernacle located in Pembroke Hall, St Andrew.
The church, which is led by the Reverend Al Miller, was packed with people, the majority of whom were existing members of the congregation.
Dormer told The Gleaner she did not attend church regularly but that it was something she wanted to change in 2009.
However, for others like Patricka Hylton, who is in her 50s, attending watchnight service is a must.
"I come here to give God thanks for the year that He has brought me through and to ask Him for blessings to see another year," she said.
Hylton, who has been living and working in the United States for the last four years, said you can find her at a watchnight service as long as she is in Jamaica on New Year's Eve.
Hylton has been a member of the Fellowship Tabernacle for more than a decade.
At the Waltham Park New Testament Church of God, there was not much space left to get a foot inside the church; the parking lot was full and outside the building there was a huge gathering.
"A first me come here," said 19-year-old Christopher, who had to be competing with the sound equipment and the vibrant congregation to be heard.
The teenager said he had accompanied a friend who attends the church and that he was even considering baptism.
When the Gleaner team arrived at the church, it was just five minutes before midnight, the congregation was in high spirits and a number of people were waiting in line to be baptised.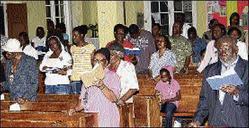 Worshippers at Falmouth United Church, in Trelawny, usher in the New Year during its watchnight service. - Photo by Richard Morais