Petrina Francis, Staff Reporter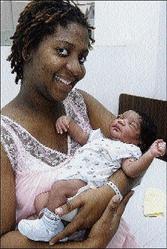 Sandrina Davis holds her son, D'Jaughn Brown, the first baby born on New Year's Day at Victoria Jubilee Hospital in Kingston. The baby weighed 7.8 lb and was born at 12:14 a.m. - Ian Allen/Staff Photographer
While Kingston's waterfront came alive with a fireworks display, at the stroke of midnight, Sandrina Davis, was at the Victoria Jubilee Hospital (VJH) in serious pain as she struggled to bring D'Jaughn Brown - the first baby to be born at the facility for the new year - into the world.
At 12:14 a.m. the bouncing baby boy was born, weighing 7.8 lb (3.55kg).
"I could hear the fireworks and they (nurses) were giving directions as to what to do and not to do (in the delivery room)," Davis told reporters yesterday during a presentation ceremony, at the hospital.
Wynlee Distributors presented the mother with a package filled with diapers and other goodies.
The 22-year-old said her friends wanted her to have the first baby at the facility on New Year's Day.
"Because I was told that you would get free stuff," Davis said.
While she was grateful for the gifts that she got, Davis said she was just relieved that the baby was here and healthy.
Lyttleton Slater, marketing manager at Wynlee Distributors, said his company had been making presentations to the first baby born on New Year's Day for the past four years.
Gesture worth continuing
Presentations were made at five hospitals yesterday.
"It is always a pleasure for Wynlee to do this," said Slater, adding that, despite the challenging economic times, the company believes this gesture was worth continuing.
The Registrar General's Department (RGD) was also at the bedside to register the baby. Since 2007, RGD has been registering babies at hospitals across the island.
Yvette Scott, deputy chief executive officer at RGD, said this initiative has been successful, noting that more than 70,000 free first birth certificates have been issued.
She noted that, by 2010, every child entering school will have a birth certificate.
Gifts from Kirk Distributors and Johnson and Johnson were also presented to Davis by the RGD.
petrina.francis@gleanerjm.com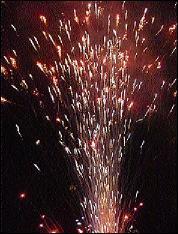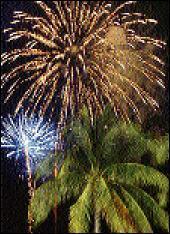 Fireworks ring in the new year by the Kingston waterfront. - Norman Grindley/acting Photography editor