Anthony Foster, Gleaner Writer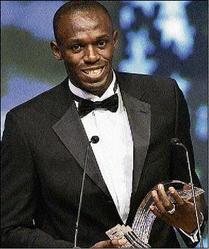 Bolt posing with his IAAF Athlete of the Year award in Monaco, last year. - file
Triple Olympic Games gold-medallist, Usain Bolt, has been voted Male Athlete of 2008 by sport journalists.
Bolt, along with Russian pole vaulter Yelena Isinbayeva, both International Association of Athletics Federations' (IAAF) Athletes of the Year, were chosen by the International Sports Press Association's in an online poll which attracted the votes of 571 journalists from 96 nations.
Both athletes shone in the 2008 Beijing Olympic Games, but Bolt, who was more devastating - winning three Olympic gold medals in record times - got 1673 votes to beat American swimmer Michael Phelps (1557), Spain's tennis player Rafael Nadal (444) and Manchester United footballer Cristiano Ronaldo (401) for the title.
Strong supporters
"It's a great honour to be selected as athlete of the year by the sport journalists," Bolt said through his manager Norman Peart yesterday.
Bolt said he was always comfortable around the journalists as "they are strong supporters of me".
"I look forward to another good year and hope they will be more friendly. Journalists play a great role in the sport industry. They are very important as they provide the necessary information," he added.
Bolt, 22, lowered his 100m record of 9.72, set in New York on May 31, last year, to 9.69 at the Games.
In the 200m, he shattered American Michael Johnson's 12-year-old mark of 19.32 by running 19.30. He then teamed up with former world 100m record-holder Asafa Powell, Michael Frater and Nesta Carter to set a third world record in the 4x100m relay in 37.10 seconds.
Apart from the IAAF Male Athlete of the Year award, Bolt had earlier won the Central America and Caribbean Athlete of the Year, Jamaica's Athlete of the Year, the BBC Overseas Sports Personality award, Eurosport Sports Personality of 2008, Track & Field News Athlete of the Year, plus the Champion of Champions 2008 label for the French magazine L'Equipe.
Undefeated outdoors
Meanwhile, Isinbayeva, who was undefeated outdoors in 2008, defended her Olympic pole vault title in Beijing with a vault of 5.05 metres, securing her second successive Olympic gold medal.
Isinbayeva tallied 1723 votes to beat Kenyan Olympic 800m champion Pamela Jelimo (631), Serbia's tennis player Jelena Jankovic (583) and Ethiopia's distance runner Tirunesh Dibaba, a double-winner in Beijing (475).
Spain's National Football team, winners of the 2008 UEFA European Championship in June, was voted Team of the Year, while Beijing Olympic Games were voted as having the Best Press Facility of 2008.