Chester Francis-Jackson, Contributor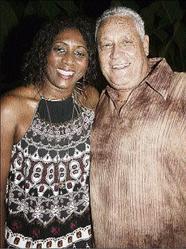 The happy couple, Dawn Chambers Henry and husband Mike. - Contributed
It was only five years ago that a shortlist of friends and family gathered on the lovely expanse of lawn overlooking the majestic Caribbean Sea, at the then Beaches Grand Sport Resort in Ocho Rios, to witness the nuptials of long-time companions, politician and publisher Mike Henry and the very charming and beautiful, Dawn Chambers.
The wedding ceremony had the ring of traditional fairy-tale fabulissimo with all those in attendance expecting the couple to 'live happily ever after'.
Now five years on (December 14 to be exact), those looking on can only conclude that the couple have been living happily ever after.
Shortlist of friends, family
Two weeks ago, the charming couple opened the portals to the official residence of the transport minister in Middlesborough and invited a shortlist of friends and family to join them in their celebration.
Hosted at the poolside of the residence, the affair was indeed very intimate, pregnant with goodwill, love and joy. Under a clear and starry night's sky, with libations flowing and guests locked in the spirit of the moment sharing anecdotal reminiscences of their relationship with the couple, it was indeed one very charming outing. And with the lovely Michelle Williams of Moveable Feast and her staff serving up a fab buffet of haute deliciousness, you know we are talking mmm good!
This was a toast to love, and the support of friends and family that nourishes and sustains it. And in this respect, Mike Henry spoke briefly, thanking his family and friends for their support over the years, singling out Dr Oswald Harding and his mother-in-law for their role in guiding him to the altar; his wife for her love and support and their children. It was quite a fine do with none other than Andrew Henry spinning the tunes to warm the cockles of the heart, as well as to cause a number of guests to shake their legs, while others just basked in the spirit of the occasion!
Guests present
Among those present were Henry's mother-in-law Gladys Brown; sons Andrew and Nicholas Henry, accompanied by his companion the always unflappable and gorgeous Jacqui Gareaves and their children Jod and Parislea; daughter Denise Henry James and hubby Owen; stepson K. Sean Harris; Senate President Dr Oswald and Marigold Harding; House Speaker Delroy Chuck; Finance Minister Audley Shaw and companion the fab Susan Duhaney; Junior Minister Daryl Vaz; former Jamaica Labour Party minister and senator Ryan Peralto; former minister Cliff Stone and wife Joan; security conglomateur Kenny Benjamin; business icon Y.P. and Pat Seaton; celebrated businessman Ferris Ziadie; Seragh and Effie Lakasingh; Pulse's Kingsley Cooper and his fab companion Romae Gordon; businessman Leslie Chang, his sibling Jamie Chang and his wife Sara Chang.
Also out were noted attorney Harold Brady; Gordon and Fay Hutchinson; the charming Daphne Taylor; Ludlow and Althea Lawla; Gary Douglas; Merline Daley; Jasmin Coley; Audrey Martin and Odinga Lumumba in from Guyana; plus a number of others.
Kudos all around and many happy returns to the happy couple!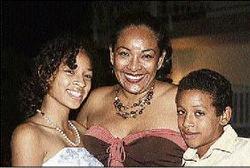 The lovely Jacqui Gareaves and her children Parislea (left) and Jod Henry, at the fifth wedding anniversary reception of the children's grandfather, Mike Henry.- Contributed