Janet Silvera, Senior Gleaner Writer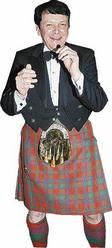 Nattily attired in his kilt, Alistair McColl made the difference at Round Hill Villas and Hotel's New Year's Eve shindig.
WESTERN BUREAU:
Three-time Oscar winner Sigourney Weaver, Polo's Ralph and his wife Ricky, Maid in Manhattan's Deborah Schindler and the island's own United States Ambassador Brenda LaGrange Johnson, rubbing shoulders at the same place? What more could you ask for?
There were not any 'Aliens' at Round Hill on New Year's Eve, just fabulous and exquisitely beautiful party people, who travelled from all across the world to ring in 2009 under dazzling fireworks, capable of lighting an entire village.
Hanover's rich and famous AAA 4-Diamond resort was the perfect setting to put an end to a year filled with challenges, and welcoming a new dawn in history.
Music
In the midst of the excitement that Round Hill dished out, souls were stirred by the sounds of the Unique Vision band, while the hips moved to contemporary and ethnic music and taste buds savoured the crème de la crème of international fusion cuisine.
England's Lord and Lady Gould, the United States of America's Jim Simpson, Howard Johnson, Professor Trevor Munroe and his wife and, of course, Alistair McColl, decked out in his kilt, were just a few of the celebrities in attendance.
Caribbean Producers' Mark and Candace Hart, American Airline's Lorna Francis, E-Services, Patrick Casserly, hosts Josef Forstmayr, Katrin Casserly, Omar Robinson and Martin Maginly were part of the large group of revellers who turned out for the event themed 'gold: a celebration of Jamaica's glory at the recent Beijing Olympics'.
South Beach Blue Beat
Twenty minutes away, another party was in full swing at the newly upgraded South Beach Blue Beat by the Sea, attracting a Generation Y (millenials) crowd.
With DJ Bambino rocking the house and lifting the waves close by, the imported Miami-based DJ had Max Jardim and Rachel Pringle, Rayne Russell and Kristen Paster rocking till the break of dawn.
Tricia Robbins' promise that "even though the times are hard, people don't want same old, same old, they want excitement to ring in the New Year and that is what we will be offering" was delivered.
janet.silvera@gleanerjm.com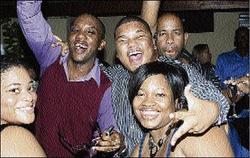 From left: Castale Bouchereau, Jason Williams, Meikel Howell and Jessica Constant couldn't wait to see 2009.