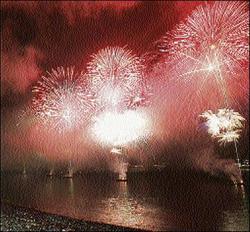 Fireworks explode over Copacabana beach during New Year celebrations in Rio de Janeiro, Brazil. - AP
AP:
Despite months of economic gloom, revellers throughout the United States welcomed the new year with merrymaking and even optimism, though some festivities fell to hard times and others were subdued.
"The worst part of last year was probably trying to get through financially," said Liza Mazzotte, a composer who had come from California to join the hundreds of thousands of celebrants in New York's frigid Times Square to see the Waterford crystal ball drop.
"I'm not worried about what I lost. I'm going to be looking to the future."
As the clock struck midnight Wednesday, a ton (900 kilograms) of confetti fluttered down on the revellers in Times Square who were bundled up in fur hats, coats and sleeping bags. Fireworks burst atop the tower where the ball was lowered. Noisemakers screeched, partygoers kissed and cheers echoed through the corridors of midtown Manhattan.
Former President Bill Clinton and Senator Hillary Clinton, expected to be secretary of state in President-elect Barack Obama's administration, joined Mayor Michael Bloomberg to lower the ball.
The National Weather Service said the midnight temperature at Central Park, just blocks from Times Square, was 18 degrees (minus eight Celsius) and the 16 mph (26 kph) wind blowing through the urban canyons made the wind chill just three degrees (minus 16 Celsius).
Sanitation crews
The temperature had fallen a couple of degrees when city sanitation crews started sweeping up the confetti and other party trash yesterday morning. Last year, crews removed more than 40 tons of garbage.
The new year was greeted earlier in other parts of the world.
In the splendour of St Peter's Basilica, Pope Benedict XVI called for "soberness and solidarity" in 2009. During a year's end vespers service Wednesday evening, the Pope said these times are "marked by uncertainty and worry for the future", but urged people not to be afraid and to help each other.
Other people tried to forget their troubles, for at least one night.
Six luxury cruise liners floated off Rio's famed Copacabana beach as fireworks erupted over heads of approximately two million Brazilian revellers.
Roberto Felipe, a 22-year-old construction worker, was shirtless with a beer in hand as he watched the spectacle.
"I hope that tonight we begin the end of war and crisis," said Felipe, who was wearing sunglasses at midnight. "I hope that 2009, which is bringing your President Obama to the scene, will help us all have a better life."
In the US, many New Year's Eve traditions were in place, but the nation's economic troubles made many people less interested in giving 2008 an expensive send-off.
Public celebrations were cancelled in communities from Louisville, Kentucky, to Reno, Nevada, and promoters in Miami Beach, Florida, reported slower ticket sales than expected for celebrity-studded parties that they say would have sold out in past years.
Sydney, Australia was the world's first major city to ring in 2009, showering its shimmering harbour with a kaleidoscope of light that drew cheers from more than a million people.
In Ireland, thousands of Dubliners and tourists gathered outside the capital's oldest medieval cathedral, Christ Church, to hear the traditional New Year's Eve bell-ringing.
In Iceland, where people have been angry over the country's collapsed economy, demonstrators forced an annual New Year's Eve broadcast featuring the prime minister off the air, storming the hotel where it was being filmed. They threw fireworks and water balloons at police, who responded with pepper spray.
In India, many were happy to see the end of 2008 after a series of terrorist attacks in several cities, culminating in the three-day siege in Mumbai that left 164 people dead.
"The year 2008 can best be described as a year of crime, terrorist activities, bloodshed and accidents," said Tavishi Srivastava, 51, an office worker in the northern Indian city of Lucknow. "I sincerely hope that 2009 will be a year of peace and progress."
Celebrations were muted in China, where fireworks and feasting are reserved mainly for the Lunar New Year, which in 2009 begins January 26.