Janet Silvera, Senior Gleaner Writer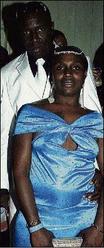 Football genius and assistant coach of the Reggae Boyz, Theodore Whitmore and his other half, Nicole Williams, at Sonny Ranking's 16th anniversary Total Togetherness ball at Caribbean Showplace in Montego Bay on New Year's Eve.
WESTERN BUREAU:
The party of 'lights, camera and action', stretch limousines and a red carpet was the affair that many will remember, come New Year's Eve 2009.
Sonny Ranking's 'Total Togetherness' grand ball at Caribbean Showplace in Montego Bay was 'the bomb' again! Up-to-the-minute gowns, '70s upsweeps and stylish contemporary stilettos were the order of this unique 'ghetto fabulous' event that comfortably invaded the upscale Ironshore community on Thursday morning.
Thursday morning, and not Wednesday night, because 2 o'clock is the norm for revellers to arrive at this annual 'family' affair, returning to their respective homes anytime between six o'clock and seven thirty on New Year's Day.
From as early as 10:00 p.m., videographers and cameramen stood guard at the entrance to this almost 'culturally shocking' event, as women competed with men for 'Best Dressed' and 'Best Hairdo' titles, among others.
This year, the women outdid the men in creativity, but the forceful males, many equipped to fork out hefty sums for Hennessey, Moët and Chandon (Rose and Imperial), Don Perignon and Vybz Rum (which is being promoted by deejay Vybz Kartel) bought enough to fill standpipes in rural communities.
Musically speaking, sound system selectors from Rebel T, Pure Playazz, Insomniak, Full Blast, Ticka Muzik and Trophy Sniper delivered more than what was promised by the promoter.
Homage to the late 'Dragon'
In a totally different world, approximately 20 minutes away, another group of revellers paid homage to the late 'Dragon', Byron Lee, as his Dragonnaires, led by lead singers, Oscar B, Jumo and Ashley Martin, took them through a rich string of soca music at Sunset Beach Resort and Spa at Montego Bay Freeport.
"It feels a bit empty, not having him (Byron Lee) around," confessed Tony Cohen, a member of the team. Lee's wife, Sheila, was noticeably absent, not yet strong enough to attend the event she had attended with her late husband for the last seven years.
On the stage stood a beautiful portrait, a stark reminder of a dapper-looking soca giant, fabulously decked out in a red double-breasted jacket, cufflinks, black inner shirt, with his signature Fender bass guitar in hand. The smile that will be forever engraved was planted on his face.
Byron Lee Jr and his wife, Josephine, were in the audience enjoying every minute of the music made famous by a father and father-in-law.
This was the band's first New Year's Eve party without the 'Dragon', but with the help of longtime friend, Sunset's Ian Kerr, his memory would continue to live on, at least at the Montego Bay family resort.
Again, Montego Bay proved to be the party capital of live bands and great shindigs this New Year's Eve!
janet.silvera@gleanerjm.com



Colour us blonde or auburn, whatever! Nicole McTaggart and Orville Blake arrived in a stretch limousine and they spoke style at the event.


Chakera Kerr made black and white seem specifically designed for her at Sonny Ranking's 16th anniversary Total Togetherness ball at Caribbean Showplace in Montego Bay on New Year's Eve. - photos by Janet Silvera