Krista Henry, Staff Reporter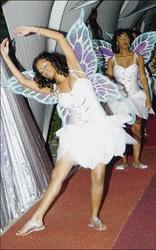 'Fairies' greeted patrons at the entrance of French Connection. - Winston Sill/Freelance Photographer
A three-minute display of spectacular fireworks lit up the night sky, welcoming 2009 at French Connection on Wednesday at the New Kingston Golf Academy.
In usual French Connection style, the venue was elegantly decked out with a lavish entrance, accompanied by dancing 'fairies', French maids, angels and the hottest cars. The bars were stacked and the lines for the food were long as persons took in their fill of the super-inclusive event. The desserts segment was popular throughout the night. One female exclaimed "this is heaven", as she indulged in the chocolate delights.
Music improved
Compared to last year's French Connection, the venue wasn't as packed, but the music was an improvement. Arif Cooper, Alric and Boyd and Jazzy T from Renaissance played a variety of genres that had most of the patrons dancing all night.
It was a very young audience and few entertainers were present as The Gleaner only spotted D' Angel, Raine Seville, DI, Hollow Point and Bar-Bee. Arif Cooper maintained a strong vibe after the fireworks display with a slew of popular songs from Kanye West and others. Cooper spun current dancehall songs such as Rampin' Shop, Really Like You and Bubble Like Soup, getting forwards from the crowd.
After some dancing songs, Renaissance switched to reggae, including some Bob Marley songs, then followed up with old school dancehall tracks that had persons bubbling. Jazzy T soon changed the vibe again with No Games from Serani, followed by a pre-carnival soca set. The 'wining' continued as he teased with a mini 'daggering' segment that had persons bending over, grabbing an available partner and dancing up a storm.
While most women came out looking fashionable in cute dresses and heels, when the music hit fever pitch, the heels were thrown aside. Alric and Boyd soon brought back a rap vibe, mixing in a little money-oriented dancehall songs.
It was obvious that the majority of patrons were having fun as at around 4 a.m. when the police came to shut down the party, patrons remained in the venue, still wanting to dance.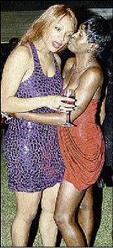 Singer Bar-Bee (left) gets a 'Happy New Year' from a friend at French Connection 'Midnight Magic' at the Cable and Wireless Golf Academy on Wednesday.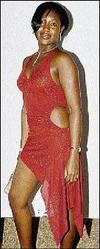 A patron in a eye-catching red dress at French Connection.