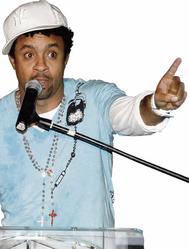 The Shaggy and Friends "I Dare You" benefit concert to be held tomorrow on the lawns of Jamaica House is a star-studded benefit performance in aid of the Bustamante Children Hospital.
The show will feature both local and international performers. It is broken down into three categories, platinum which costs $20,000, gold, $10,000 and silver, $5,000.
Patrons with a platinum ticket will get special parking and each guest will be escorted to the designated dinner and auction area. The area at the side of the stage will be decorated with the theme colours - white accentuated with red, black, gold and silver. The auction, which will be conducted by Simon Crosskill and Neville Bell, will be displayed electronically.
The delightful six-course dinner will be served by more than 30 waiters. The fare will showcase the exquisite culinary skills of Lorraine Fong, Jamaica Pegasus' chef and Meredith and Anna Kaye Lazarus, backed by the team of Maureen Capleton, MC Décor, Sadie Soas, and Joan Young. The menu includes an arrival cocktail, salad, chicken, seafood, beef and dessert.
Gold patrons will be escorted to the enclosed deck area, where they have access to an array of premium bars such as a rum bar, a Martini and cosmopolitan bar, a shot bar and an assorted wine and cheese station, which will offer a fine selection of wines, fruits, cheeses and cold cuts. There will also be a grand dessert bar which will be open after dinner at 8:00 p.m., when the show begins.
Entrance Information
Platinum ticket holders will enter through the Hope Road entrance where they will be directed to the parking area. They will then be escorted to the dinner and auction area. Gold ticket holders will enter through the Devon House Road entrance, where volunteers will assist with parking and directions to seating areas. Silver ticket holders will park at King's House and enter from East King's House road below the football field. They will be shuttled to the show site.