Jamaican navigation system to map marine points - Lyew-Ayee predicts bigger sales for JAMNAV in 2010
Avia Collinder, Business Reporter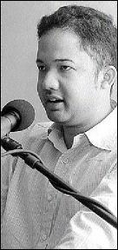 Dr Parris Lyew-Ayee, director of the Mona GeoInformatics Institute.
Mona GeoInformatics Institute (MGI), creators of the JAMNAV GPS navigation system, tailored for inland Jamaica, is to launch a version of the product for offshore use, covering shipping lanes, reefs, cays and other navigational points.
The offshore version will be targeted at operators of pleasure craft, jet skis, fishing boats and similar users, said Dr Parris Lyew-Ayee, director of MGI, an institute of the University of the West Indies.
At the same time, MGI will soon be offering businesses the ability to add logos, phone numbers, opening hours and slogans on Garmin - the device on which the JAMNAV map data is available.
"This would be akin to the type of service you get with a premium Yellow Pages listing," said Lyew-Ayee.
JAMNAV provides directions in a 10-mile radius to users and 15,000 points of interest in 69 categories.
Sales are "pushing 700" since its March 2009 debut, "which isn't bad considering we hadn't really aggressively pushed this thing out there until recently", said Lyew-Ayee.
"I also suspect people were trying to wait and see if this was a flash in the pan, which it isn't. Sales have steadily increased since March, as has the product itself, which is far more mature now, with almost 30 per cent more detail than March. We've also been putting out steady updates and upgrades to clients."
The market for the device, he said, has grown beyond the initial target segments, which included diplomats, expatriates and rental car clientéle to companies and agencies.
Businesses will soon be allowed to customise their subscriptions to suit internal uses.
Customised versions
"The Water Resources Authority is already using a prototype of this when doing well monitoring across the island, where they have all their wells loaded on to the system and can systematically go to each," said the institute director.
"This isn't something we'd put into a general release product but is very useful, especially when a normal driver isn't available to go to a particular location. Any driver using the system can head to any well anywhere."
JAMNAV is marketed chiefly by Jamaica Automobile Association (JAA), a subsidiary of Jamaica National Building Society.
"They're the unit dealers, we're the data developers," said Lyew-Ayee, though he acknowledged that MGI has gotten involved with sales at some level.
"People have come to us directly, though we're not optimally equipped to be a sales shop," said the institute director.
"AVIS is a star. There is no formal relationship, but I would consider AVIS to be our only development 'sponsor' if only because they offered us a car free of cost for a six-month window that allowed us to accelerate the development and finalisation of the product. In return, we've given them preferred access to our data at at-cost rates and unlimited free updates and inclusion in our corporate data packages."
The Garmin unit is priced at US$115 for the standard data set, with MGI offering bulk discounts as well, depending on volume requested.
At Avis, clients can rent it at US$11 plus tax.
Demand unexpected
Demand for the device, said Lyew-Ayee, has come in "an unexpectedly high response" from returning residents or second- and third-generation diaspora visitors who are already familiar with the system overseas, mission staff from the United States and United Kingdom, and gadget-savvy Jamaicans.
"Ordinary people who would rent the devices when they travel have bought units since they can use the same JAMNAV-loaded units overseas as well as they can be used here," said the developer.
"Avis is a star with respect to the rental car/tourism sector, while Fidelity Motors has been the biggest customer from the car sales sector," he said.
Part of the device's success, he noted, was linked to its functionality.
"It really is a general-purpose product for those who get lost or don't know where things are, as well as those who need to have the latest gadgets and gimmicks. Some units have Bluetooth, MP3 players, as well as satellite radio, etc, and also offer automatic re-routing, pre-set avoidances for perennially violent regions."
JAMNAV may also be loaded to laptops and specific smartphones.
While Lyew-Ayee was unwilling to disclose the development cost, JAMNAV was, he said, a multimillion-dollar project spread out over three years.
"We had to pretty much do everything from scratch to capture the detail required for such a product."
MGI expects that sales, which were far more than expected in 2009, will grow next year as the product is refined, markets are expanded under the offshore and other plans, and a marketing programme is developed around it.
"All trends are that 2010 will be better as we solidify the product itself, and move towards marketing it more," said Lyew-Ayee.
"We didn't really market the product heavily in 2009, relying more on word of mouth."
avia.collinder@gleanerjm.com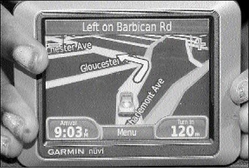 Garmin nuvi, the portable navigation device on which the JAMNAV service is delivered. - File PHOTOS