Girls go down fighting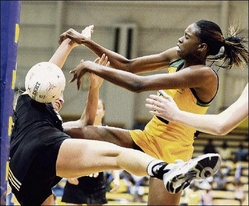 Jamaica's Sunshine Girls will have to extend the wait for their second win against New Zealand, after going down 56-61 to the visitors during the opening game of the National Commercial Bank Sunshine Series, inside the National Indoor Sports Centre last night...

Georges, BT clash
LEADERS, St Georges Sports Club, face a Boys' Town team desperate to transform its lack of form in the early season, when they meet at 3:30p.m. at Collie Smith Drive in one of two rescheduled matches in the Digicel Premier League this afternoon...

Lions learning about life in the big league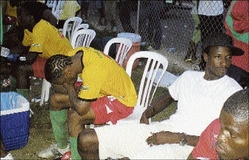 If the fans or management of Humble Lions felt competing in the Digicel Premier League would have been difficult, Sunday's home loss to Village United would certainly make them think "it's even harder now". The league has shown a pattern in the last few years...

UTech track facilities to get $8m upgrade


The track and field training facilities at the University of Technology, Jamaica (UTech) are to get an $8-million upgrade, which according to the college's president, is a gift to the athletes who have done so well internationally in recent years...

Ben Francis, inter-zone aspirants seek qualification
Western Bureau: The rural segment of the 2009 ISSA/Pepsi/ Digicel schoolboy football season will be fought on two separate fronts this afternoon, as while the daCosta Cup will continue with four rescheduled games, action will commence...

Barbican cop double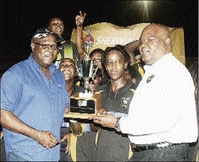 Barbican FC became only the second women's team to claim a league and knockout double following a 2-0 win over Waterhouse in the Colourscape Jamaica Football Federation Women's Football knockout final at Ferdie Neita Park...

Patient Thompson rides into 3,000 league


MIAMI, Florida, United States: Winston Thompson's shot at winning his biggest purse in horse racing fizzled fast during the Calder Race Course's 'Festival of the Sun' meet here on Saturday.His mount Primal Baby started sluggishly in a US$400,000 stakes...

McFarlane makes explosive return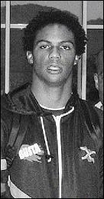 SEIDO Karate star, Bruce McFarlane, made an explosive return in a bid for selection to Jamaica's combined martial arts team, when he won gold at the Philadelphia Taekwondo Championships in the United States. McFarlane, along with combined team captain Jason McKay...

'Dello', Barnes inducted into ACU Hall of Fame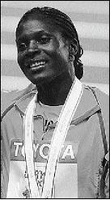 ABILENE, Texas (CMC): Jamaican world-class sprint hurdler Delloreen Ennis-London has been inducted into the Abilene Christian University (ACU) Hall of Fame.Ennis-London and another Jamaican athlete, Tracey Barnes, were part of the 2009 class inducted...

Pollard smashes way into All-Star XI
DELHI, India (CMC): Kieron Pollard's enterprising batting for Trinidad & Tobago has earned him a place in the All-Star XI of the Champions League Twenty20. Pollard has played a few memorable innings throughout the competition...