Published: Monday | June 1, 2009
LETTER OF THE DAY - Drawing the line between religion, responsibility and the State
The Editor, Sir: The letter in Saturday's Gleaner entitled 'Commish Lewin's disregard for a constitutional right' is quite misleading. To claim that the police commissioner's stance on the place religion should have in the force is an attempt to create...

Don't diminish Shearer's worth
The Editor, Sir: I think that it has been good for Jamaica that there has been controversy with regard to the naming of the proposed new $5,000 bill in honour of the former prime minister of Jamaica and president of the Bustamante Industrial Trade Union...

Is the JPS that broke?
The Editor, Sir:I am a contractor with the Jamaica Public Service (JPS) and have been experiencing delays in getting substantial payments for works done on its transmission and distribution system.

PM is beginning tosee more clearly


The Editor, Sir: The prime minister should get it right. He contends, wrongfully, that I "continue to insist that (he) erred in suggesting that the dual-citizenship dilemma could be dealt with by a two-thirds majority vote in Parliament...

Falling into Boyne's trap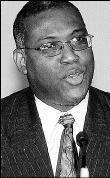 The Editor, Sir: I am afraid that in his rather sharp slapdown of Ian Boyne, published in yesterday's Sunday Gleaner, Trevor Campbell fell into a well-laid trap set by your esteemed writer. You see, Boyne's aim seems hardly ever to engage others in any...