Keisha Shakespeare-Blackmore, Staff Reporter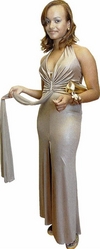 Left: Morning weddings are becoming quite popular and this little purple dress would be suitable for the occassion. Model: Erica Hayden right: If you want to look sexy yet elegant, how about this beige gown with a teasing slit at the front? Model: Daniel Sherlock.
Your wedding day is probably one of the most important days of your life. Thus, careful consideration is usually given to the date. A lot of people opt for traditional June weddings because for centuries, June has been considered the month for weddings.
Reason being, back in the 1400s, May was considered the month in which the 'annual bath' occurred. People were only able to bathe thoroughly once per year, in May, so they would have been relatively fresh in June, making it a suitable time to hold a wedding.
Lucky month
Also, in ancient Roman tradition June was considered a lucky month to get married and the Romans paid tribute to the goddess Juno, after whom the month of June is named.
These days, weddings are no longer reserved for June. In fact, people tend to celebrate their special day anytime between June and December. As the season begins, here are four outfit choices that you can wear to such an occasion.
Outfits courtesy of Exhale Boutique, 11 South Ave; tel: 960-7901. Models: Sher Bridgmen, Danielle Sherlock and Erica Hayden.
Source: www.weddingsabcs.com;
www.custom-essay.net/free-essays.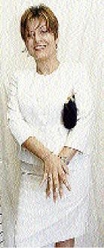 Left: If you are the mother of the bride or groom, this lovely cream skirt suit with gold trim will do you well. Model: Sher Bridgmen - Ian Allen/Staff Photographer Right: If you want to look sassy try this hot pink dress and you'll surely turn a few heads.