Published: Monday | June 1, 2009
Flair couple - My everything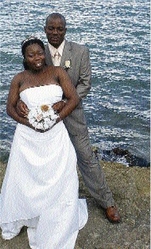 Kamar Thompson finally took James Agustus Bradshaw to be her everything. The two got married on March 19 at the Braeton Seventh-day Adventist Church in Portmore, St Catherine. - Contributed
March 19, marked the beginning of a new chapter for James Agustus Bradshaw and Kamar Nadia Thompson. The blushing bride marched down the isle to meet her enthusiastic but shy prince, at the Breaton Seventh-day Adventist saw.
The two met in 2001 when the bride was working at the Gleaner Company. Every morning James accompanied Kamar to the bus stop suffering through the many rejections she hurled at him. The shy but determined James knew that one day he would be her everything.
The two had a quiet but romantic reception at Kamar's home in Portmore, surrounded by family and close friends.

Get your wedding picture published in the Flair magazine weekly by sending us pictures of your big day and details of your attire, reception, wedding planner, cake and honeymoon. Your wedding should have taken place no more than three months ago. Send details to: lifestyle@gleanerjm.com.