Sacha Walters, Staff Reporter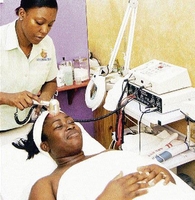 Face Solution and More's manager/beauty therapist, Juliet Thompson, gives Nicola Walsh an anti-ageing treatment using the Revitalight Skin Care System. - Norman Grindley/Deputy Chief Photographer
A cosy and cost-effective spa is what Face Solutions and More offers.
The spa, located at 23 Haining Road, Kingston 5, is making its debut during The Gleaner-sponsored Spa Week.
"We're a cosy little spa that gives good customer service," said managing director Sharon Williamson.
She hopes that Spa Week will make Jamaicans more aware of their business. According to her, the spa offers good prices on all spa essentials. And they will be cutting prices on all their services across the board.
Two of the exciting services which they offer are the anti-ageing LED and Galvanic treatments.
In addition to reducing wrinkles over time, LED treatments also reduce the appearance of scars and stretch marks.
"The LED is really an amazing machine," says Williamson.
With the galvanic treatments, results are seen immediately.
Williamson also notes that her spa uses a line of anti-ageing products which are also available for sale.
She acknowledges that currently, clients have been cutting back on luxury services. Instead of doing full manicures, they may choose to only repolish their nails or do it themselves.
However, she hopes women will remember that maintaining beautiful skin is as important as maintaining healthy hair, as both contribute to overall beauty.
"When you work hard you need to pamper yourself," she adds.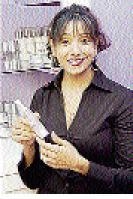 Sharon Williamson, owner of Face Solution and More, shows off one of the products from her beauty line.