Nashauna Drummond, Lifestyle Coordinator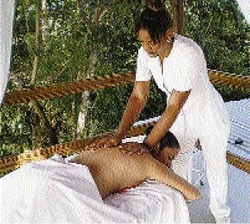 The third storey is 30 feet above ground, giving clients an opportunity to enjoy a relaxing massage among the trees. - Contributed
Six years ago, Oliver Magnus found himself in the hills of Oracabessa, in a district called Mason Hall, in St Mary. "I closed the door to my truck, looked around and I was just like, 'Wow!'. Next thing I knew, I was buying four acres."
Today, the three-story building on the property is home to Contentment Jungle Spa and Café.
All Green
Contentment Jungle Spa is one of a kind; it is made entirely of recycled material, runs on solar power and has its own water supply. "Necessity was the mother of my invention," notes Magnus, explaining that while he likes using recycled material, the cost of getting electricity and NWC water supply to the area was astronomical. Apart from being self-sufficient, the spa's other unique feature is its total privacy. "All you hear are birds and cool breeze," explains Magnus. "You can't go to many other spas and only hear birds and breeze. You have to see it, pictures or words can't explain it."
No trees were cut in the construction of Contentment Jungle Spa and Café. The building boasts a fireplace on the first floor, as it is very cold in the hills, and the third floor is 30 feet off the ground, with a viewing pavilion and one of the massage rooms.
Magnus explains that Spa Week will be the perfect launching pad for the spa that has been in operation for only three weeks. He notes that, so far, everyone who comes there has been impressed by the view and tranquility. He notes that as the current economy creates more stress and pressure for persons, his spa will be the relaxation destination, even if it's only to sit in a hammock and look up at the trees.
By appointments only. Tel: 416-8563.