Latoya Grindley, Gleaner Writer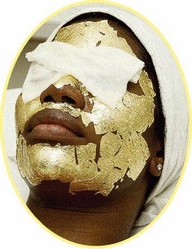 After gold sheets are applied, clients are left for 20 minutes.
When you think of 24 carat, the first thing that comes to mind is precious metal. Even if thoughts of precious stones come to mind, chances are a facial would not be among them. At least, not until now.
Allowing clients to enjoy golden treatment, The Face Place Salon has recently introduced its 24-carat gold facial. Offered exclusively at the salon, managing director, Marie Hall-Smith says the service started at the beginning of May.
She explains that the idea came about after she went to an aesthetic expo in New York recently. "I am always trying to find ways to meet my clients' needs and demands. When I went to the expo and saw the technology used and the minerals fused into the treatment, I was impressed."
Great feedback
Captivated by what she saw, she got on-the-spot tutorials and immediately made her contacts. Just a little over a month since it has been made available in the island, she notes that the feedback has been great. "I initially thought of my high-maintenance clients when I decided to do it, but more people are requesting it because it's affordable. It has been phenomenal."
The 24-gold carat facial leaves you with an instant glow. Not to be mistaken for a bronzer, the facial leaves clients with a noticeable and immediate golden glow.
Wrinkle and blemish TREATMENT


BEFORE - Terry Ann Arnold, before the 24 kt gold facial treatment. She awaits the facial after her skin has been prepped.


AFTER - FINAL PHOTO: Can you see that glow on Terry-Ann Arnold after the 24-carat gold facial?
The facial treatment takes approximately 80 minutes and is not only about the glow but is also great for your skin. It helps to rejuvenate the skin and also helps to fade the appearance of wrinkles and blemishes. "While doing the treatment, clients will feel the skin tighten," notes Smith.
This was supported by Terry Ann Arnold who was receiving the facial treatment when Flair visited the salon. "This feels really good on my skin, I can feel my skin becoming firmer," she said excitedly during the process.
This new treatment is ideal for any skin type. However, the beauty expert said a skin analysis has to be done before clients receive the treatment. "We have to prepare the skin first. So for certain skin conditions we wouldn't recommend the facial right away. For persons with more mature skin, we would recommend microcurrent treatment along with the gold facial as the results are realised more over a longer period."
This type of facial can be done once per month or be reserved for special occasions. As for the look, it can last up to two weeks.
The use of gold as a beauty treatment can be traced back to the days of the Egyptian queen, Cleopatra, who, it is believed, used gold as a facial mask to preserve a youthful look.
Today, 24-carat gold sheets, along with gold powder, are the main ingredients in this 'golden' beauty treatment. With pride, the spa owner boasts that clients will walk out feeling just as good as they look - with that natural golden glow.
latoya.grindley@gleanerjm.com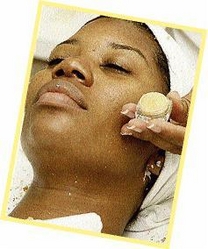 To complete the facial and to achieve the golden look, 100 per cent gold powder is applied over moisturiser.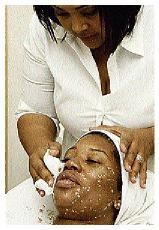 To get the remaining gold strips off, Marie Hall-Smith of The Face Place, wipes the face with a piece of cloth saturated with moisturiser.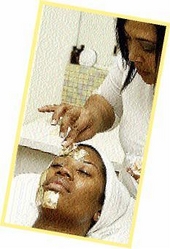 Marie Hall-Smith applies the gold sheets individually and evenly on Terry-Ann Arnold's face. The strips are applied over absorbing serum, which is applied all over the face first.