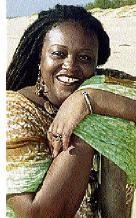 D-Empress
The title of this column often intrigues people. Fe-mail Ties, what does it mean? I'm exploring the ties that bind women across the waters, via the Internet. It's a conversation that spans our experiences, our nature, our joys and life's challenges. It's about a female bonding culture that brings us together as women, no matter where in the world we may be.
The ties that bind us also speak to an innate connection, encoded in oestrogen and travels soul deep. When strong, our female ties provide for solid, stable relationships. More than a shoulder to cry on, I mean a friend who will look you in the eye and tell you the truth you might not want to hear. I have girlfriends with whom six hours race by as we sit, face to face, drinking tea and simply bonding. We thrives as we honour and nurture our female bonding culture.
As we look across the globe, we can see communities are fragmenting more deeply than ever before. Often the divisions are based on culture - our ways of seeing, being and doing.
Issues of identity and belonging
In the African-Caribbean diaspora communities, issues of identity and belonging are becoming even more poignant as, three generations later, migrant diaspora communities struggle to bridge the divide between our ties to home and the place we called home.
So, in this pervasive reality, where are the female ties located? Do they still exist or are they spooling out of kilter as we attempt to grasp new dimensions of belonging?
For it is the women who typically grow and nurture a community. Of course, men and boy children play a valuable role, but as you shift from successful businesswoman to homemaker, to mother, to wife, are you doing all you can to tighten your female ties?
While pondering the question of unity during the recent Africa Day events, I explored the female dimension to this question. A few weeks back, I came across a young Ghanaian woman, Afua, who was sharing appreciation for her South African sister-in-law, Thembi.
As we sat drinking tea she described her diaspora journey. Growing up between the United Kingdom, Tanzania and other countries across Africa, Afua had hardly spent any time in her native Ghana. Though her parents did all they could to maintain a connection to her heritage, she lamented the fact that she didn't really feel Ghanaian.
Joyfully, it was through the birth of her nephew that Afua was able to reconnect to aspects of Ghanaian culture that she had never witnessed. Though the child was born in South Africa, Thembi wanted to follow traditional Ghanaian rituals for naming her newborn child.
Affirming role
Afua glowed as she spoke of how she, affirming her role as aunt and sister, had become after she participated in the ceremonies. She was able to touch a deep part of her heritage, a gift presented through a female connection, her sister-in-law, Thembi.
Afua and Thembi now share a bond woven tighter than ever before - a bond expressed through culture but which has always been deeply ingrained in their souls. What is your female bonding culture?
Send your comments to: d.empressheart@gmail.com and read more D-Empress blog called Fe:mail Heart. Log on to http:/femailheart.blogspot.com.