Robert Bailey, Gleaner Writer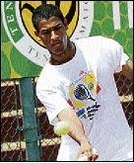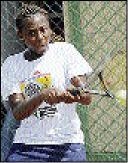 ( L - R ) Joseph Ross, Neeah Rose
Joseph Ross and Neeah Rose captured the boys and girls Pan Caribbean Bank All Jamaica Under-18 singles titles, following victories over Sheldon McIntosh and Shantal Blackwood respectively at the Eric Bell Tennis Centre yesterday.
The unseeded Ross defeated fourth ranked McIntosh 6-3, 3-2, after his opponent was forced to retire hurt with a blister on his right index finger.
Ross also won the Under-16 singles title, with an easy 6-2, 6-4 victory over McIntosh.
The 16-year-old Ross said he was delighted with his performances.
"I am feeling very happy and I am also very relieved because I knew that I was going up against Jamaica's best tennis players and so it feels good to come out on top," he said.
"I think that I was very consistent throughout the tournament because I was able to raise my game whenever my opponents were playing harder and my energy level was also tremendous," Ross said.
Ross's opponent McIntosh believes he gave it his best shot. "I had the blister on my finger from yesterday (Saturday), but today it opened and I was unable to carry on.
"I even tried to wrap it but was just unable to hold the racket properly," he added.
On the girls' side, Rose who went down 0-6, 6-2, 6-4 to Blackwood in the Under-16 final, turned the tables on her opponent in the Under-18 final by defeating her 6-4, 6-4 in the Under-18 singles final.
Ross, who attends school in the United States, was delighted with the victory.
"I was very happy that I have won it because this is the girls' 18's and I am the youngest player playing in it and wanted to win," said the 12-year-old Rose.
"I don't I think was playing my best because I was really tired after the first match but tried to play consistent and let her make all the errors and it worked for me and I feel good about it," Rose added.
Meanwhile Blackwood believes she had a better match in the Under 16 final.
"I think I played excellently in the Under-16 final because my footwork was good and I was moving properly, I was playing smart, I was also keeping the ball and controlling the court."
"However, in the Under-18 game, I think that because of the wind my footwork went bad and she came back with confidence and I was not playing properly," said Blackwood.
Daniel Harris won the Boys' Under-14 singles title, with an easy 6-0, 6-2 win over Alex Anderson. Michaelann Denton captured the girls' equivalent by defeating Shadae Findlay 6-4, 6-2.