Glenroy Sinclair, Assignment Coordinator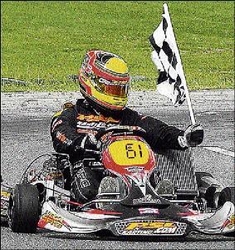 Leesman
Canada, with impressive wins from Fritz Leesman and Jesus Rios Jr, shared the spotlight with host country Jamaica, on the final day of the two-day Caribbean Carnival of Karting international race meet, which concluded yesterday at the Palisadoes Raceway, Kingston.
Although the Jamaicans won more races this year, the Canadians were very impressive. Rios easily outclassed his rivals in the Rotax Junior Class, winning by wide margins, while his teammate, Leesmann, looked a cut above the competition, in the ICC Shifter Class.
Among the other foreigners who took the chequered flag on the weekend were; Brazilian, Enzo Fittipaldi Da Cruz, who won one of the events in the competitive 80 cc Comer Class, the United States' Carlos Duenas, also won one of the races in the Rotax Senior Class.Despite the spills and thrills, the competitiveness of the races had the fans screaming their heads off. The under nine age group, 80 cc Comer Class provided most of the excitement. It was a show down between Joshua Sirgany, Richard Lechler, Justin Sirgany and the Brazilian, Fittipaldi Da Cruz.
Jamaica's Mario Mair performed like a real champion, taking charge of things in the Rotax Masters Class, a gesture which kept the United States' Robert Kerr quiet for most of the meet. Kerr was one of the top performers at last year's international meet.
"This was really a successful meet," said Errol Anderson, as he pointed simultaneously to the large crowd which turned out for the event.
"I have been speaking with the international drivers and crews and they believed we have a first class, world rated track. They were also impressed with some of our local karters," commented David Kerr, a former competitor at the Dover Raceway.
Kerr, who raced competitively for more than two decades, believes that with good sponsorship, Jamaica can produce a world champion in another two years."Sponsorship is the key, without it, you will not reach far," said Kerr."I am pleased with what I saw, I think our local lads are getting there," said Dickie Crawford, a former race meet promoter at Dover Raceway.