MADRID (AP):
Cristiano Ronaldo, Real Madrid's record signing, is to wear the number nine shirt once sported by club legend Alfredo di Stefano and wants to emulate the Argentine striker's success with the Spanish club.
Ronaldo, who was signed from Manchester United for £80 million (€94 million; $131 million), was quoted as telling sports daily Marca yesterday.
"Some day I would like to have a winning record similar to Alfredo di Stefano."
Currently the club's honorary president, Di Stefano joined Madrid in 1953 and, along with Ferenc Puskas, helped Madrid win a record five straight European Cups between 1956-60. The team also won eight league titles and the Intercontinental Cup in 1960.
"Cristiano will wear Di Stefano's number nine," said sports daily As, adding that the Madeira-born player had accepted the advice given by the club and his own agent, Jorge Mendes, to wear the historic number.
Mythical figure in football
"He is a mythical figure in football, like Bobby Charlton in Manchester United," Ronaldo said of Di Stefano. Ronaldo said he was still young and confident of being able to win many championships.
"I've succeeded in achieving some objectives with Manchester United and I hope to write a new page of successes as a Real Madrid player," said Ronaldo. FIFA's World Player of the Year helped United win the current Champions League format of the European Cup in 2008.
Ronaldo said he had not yet met his new coach, Manuel Pellegrini, but said that he had played in the Champions League against a club he coached, Villarreal. In November, Villarreal drew 0-0 against Manchester United. He said the Spanish club had been very well organised and difficult to beat.
"He's got his ideas and I hope together we'll be able to win many things," Ronaldo said.
The Portuguese winger said he got on very well with his future teammate, Kaka, calling him a truly great player, adding that he was "very sure" he would be compatible with the Brazilian.
He also paid tribute to Karim Benzema, who is joining from Lyon, and said he hoped to create plenty of goals for the France striker.
Ronaldo said he would be sharing a changing room at the club with fellow Portugal player Pepe. "Pepe is my friend, almost brother. For a time, we were at Sporting Lisbon together and he has lived in Madeira," he said.
Ronaldo believes the spending spree under way by club president Florentino Perez means that the Spanish Liga is now a better competition than its English equivalent.
"With the signings Florentino Perez has made, the Spanish league has become superior to the English Premiership," Ronaldo said.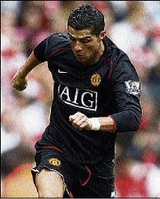 Ronaldo