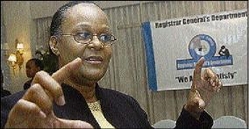 Patricia Holness CEO Registrar General's Department: We really don't like the idea that persons (calling) are piling up and waiting, because we will answer 6,000 calls per week, and have another 3,000 waiting. - FILE
The Registrar General's Department (RGD) will be introducing Internet protocol (IP) telephony at its locations to improve client access. The system will kick off at its Twickenham Park, St Catherine, head office by September.
Chief Executive Officer Dr Patricia Holness said a contract was signed earlier this year for the installation of the system. It is expected to cost $12 million.
Holness stated that the IP telephony will replace the PBX system, which was previously used, but was destroyed during a lightning storm in 2008. She said that development forced the agency to resort to using cellular phones to transact business with clients calling the head office.
Regional offices
After the head office start-up, the system will be rolled out to the regional offices in Kingston; Portmore, St Catherine; May Pen, Clarendon; Mandeville, Manchester; Santa Cruz, St Elizabeth; Savanna-la-Mar, Westmoreland; Montego Bay, St James; St Ann's Bay, St Ann; and Port Antonio, Portland.
IP telephony is a general term for technologies that use the IP packet-switched connections to exchange voice, fax, and other forms of communication that have traditionally been carried over dedicated circuit-switched connections of the public switched telephone network (PSTN). Utilising the Internet, calls travel as packets of data on shared lines, avoiding the tolls of the PSTN. The challenge in IP telephony is to deliver the voice, fax, or video packets in a dependable flow to the user.
Holness explained that the key IP telephony feature is its ability to track available lines at stations within the network, if particular numbers called by customers are unavailable. This is almost similar to a toll-free line service.
"One of the most frustrating things is to be answered by a machine but (with) the hunt feature, wherever you call one number (which may be unavailable), then that particular phone will hunt for all other (available) numbers. So, rather than having 82 lines, which we lost in the lightning strike, we will now have hundreds of lines," she told the Jamaica Information Service.
"So it doesn't matter where the call ends ... a lot more persons would be available to answer the phones. We really don't like the idea that persons (calling) are piling up and waiting, because we will answer 6,000 calls per week, and have another 3,000 waiting," she added.
Holness pointed out that the IP telephony is expected to shorten the RGD's response time to clients' queries, requests, and applications.
"If you apply in Spanish Town, the person in Montego Bay (will) see the application, and see all the activities associated with that application," she said.
Another advantage, the CEO said, is 24-hour access to RGD officers, inclusive of weekends. "We will have individuals, who will have a death occurring (for example) on a Friday afternoon. There's Saturday, Sunday, and often they need to get information to the undertaker to deal with; many funeral homes will not accept a request (for burial) without a burial order.
"We do find that when we are accessible 24-hours, seven days a week, we are able to satisfy those customers," Holness said.