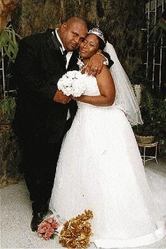 Gerald Morgan and his lady love, Akinye Allen. - Contributed
Gerald Morgan and Akinye Allen met in Half-Way Tree square some 13 years ago. Soon after, they started dating and getting to know each other's likes and dislikes.
"Then one night he came home and just popped the question, I was excited.
"We later discussed the matter to ensure that this was what we both wanted. I was convinced that he really loved me and that he meant business and so, with a song in my heart, I said, 'Yes, yes, yes'," recalls Allen.
Exchanging vows
Their plans materialised into a wonderful day on Morgan's birthday, April 23, when they exchanged vows.
The ceremony was witnessed by close family and friends. Officiating minister was a civil registrar, Silvera Castro.
Best friends wed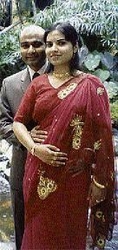 Andre Lloyd Nelson and Narcisa Garcia. - Contributed
Jamaican Andre Lloyd Nelson and German Narcisa Noblecilla Garcia met some six years ago at the Peoples Friendship unions. They studied together, he studied civil engineering and she pursued ecology.
They visited Jamaica in 2007 and, at that time, she could not speak English. Now, through their relationship, she has become very fluent in both Jamaican Patois and standard English.
As cupid would have it, Nelson proposed to his bright-eyed beauty on Valentine's Day and she responded with a resounding, 'Yes'.
On May 30, before friends and very supportive family, they exchanged vows at the garden of Elegance, on Annette Crescent. Wedding planner Lorraine Clunie ensured that the garden was something that they will never forget - the decor was gorgeous. The groom remarked that his wife was very happy, never bored and that she always makes the best of every dull moment.
The ceremony was performed by Silvera Castro, civil registrar of marriages.