Daviot Kelly
Now don't think Michael Jackson's death had missed me; you would have to be from another galaxy not to have heard that (and even aliens have satellite radio).
Truth is, Jacko died after yours truly had already handed over last week's ranting (lousy timing Mike). But it's never too late to heap some more plaudits on Jackson. Singer supreme, dancing dynamite and entertainer extraordinaire, Mike had everything. And yet, he was probably the most unhappy man on earth. It was clear the man was not well. The whole black-then-white skin thing (which I'm still not sure was totally his fault), the paedophile claims (not even going there) and the eccentricities (and there were many) almost take away from the fact that he was quite possibly the greatest entertainer ever.
Like many folks, I tried to do the moonwalk at some point, tried to learn the words to all the songs and 'grudged' him a bit for the money he was making. But, unlike others, I didn't wear the gloves, the tight pants, the red leather jacket or the black-and-gold clothes. And definitely no crotch grabbing. The jerry curl was another no-no. I like being able to turn my head without splashing juice all over the place.
Worshipping him
I admired Mike but I never worshipped him. I didn't scream like a child at seeing him on TV and certainly didn't cry when his death was confirmed. Something about seeing people do that for a mere mortal bothers me somewhat. Mike, like all of us, was, after all, human. Human beings have a few things in common and dying is one of them.
All those who think their world is coming apart because he's dead, get over it! Sure, he was a legend but don't spend too much time crying. Best thing to do is focus on those still around and show them as much love as you did Mike, whom you more than likely never met. But still, RIP MJ.
Final frontier
While Mike (and I nearly forgot Farrah Fawcett) went off to the final frontier, investment trickster Bernard Madoff went to his final resting place as he was sentenced to 150 years in prison! Considering he's 71, I'm guessing he won't be coming out soon. Even if there were a chance for parole, he probably would have been released just in time to die anyway! Hope even a few of his victims get their money back.
Have to drop in a word on my dismay at the Salvation Army being robbed ... again! These rascals (the robbers) are worse than Madoff. Stealing from those who gather donations to help the needy puts you as the lowest form of life on the planet in my book. Electric chair offence if you ask me! Lata.
Moonwalk with me at daviot.kelly@gleanerjm.com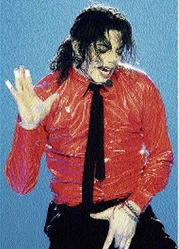 Michael Jackson performs 'Dangerous' during the taping of the American Bandstand's 50th anniversary show in Pasadena, California, on April 20, 2002.