Keisha Shakespeare-Blackmore, Latoya Grindley and Nashauna Drummond, Gleaner writers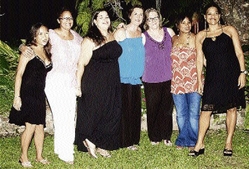 Members of the winning group (from left) Sarah Chai, Karla Henry, Sherice Sarju, Paula Delves, Dr Denise Eldemire-Shearer, Joanne Adams and Suzzane Rosseau-Bernard are ecstatic with their results, losing the most weight in the 10-week fat-loss boot camp challenge held at Shakti. They were hanging out at a celebratory dinner held recently. - Winston Sill/Freelance Photographer
It was military-style, high-intensity workouts when the 10-Week Fat Loss Boot Camp kicked off about two months ago at Shakti Mind Body Fitness.
The camp ran from April 21 to June 26, with four of Shakti's top instructors, Rose Tavares-Finson, Nadine Prendergast, Tiana Douglas and Danielle O'Hayon, leading the way. The camp was divided into four groups and then the race was on to see who could lose the most weight.
With high-intensity training drills, the pounds, inches and body fat began melting away. Every participant had to keep an exercise and diet diary to note all her exercises and everything she ate. To help motivate them, there were fabulous prizes, including a weekend vacation.
After weeks of hundreds of jumping jacks, push-ups, skipping, boxing and kickboxing, the biggest loser was Elaine Hood, from O'Hayon's, class and the biggest loser group was led by Rose Tavares-Finson.
Sharon Feanny, owner of Shakti, said she is pleased with the results of all the women and is looking forward to the next boot camp in September. Though their reasons and goals may have been different, the women all shared common results - they are lighter and healthier than before. It was not a walk in the park but they stuck it out with the help of family, friends and their instructors.
Here are the stories of three of the participants.
The biggest loser
Elaine hood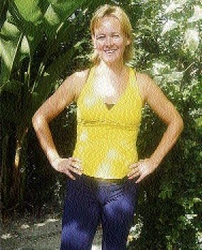 The biggest loser, Elaine Hood, is 19.5 pounds lighter. - Contributed
For most women, their weight becomes an issue after childbirth. Elaine Hood, a mother of two, is no different.
The weight began piling on after her first child. However, after the birth of her second, it became more of a concern for her. Weighing 160 pounds, Hood decided to sign up for the boot camp at Shakti Mind Body Fitness on Beckford Avenue.
"I never really felt comfortable about my weight but I didn't do anything about it. I think I just needed the push." The boot camp gave Hood the push she needed. She is the first to admit that the journey was shaky at the beginning but when the results became obvious, it eventually became easier.
"The first week was awful. I honestly didn't think I would get through it. But I was determined and committed, especially after losing 10 pounds in two weeks." That gave her the drive to continue. She also began seeing the difference in the way her clothes fit. For the duration, the fitness buff went to the gym every day, participating in two sessions.
"There were specific instructors and at first it felt like a real boot camp, based on how hard we were pushed, but it wasn't a situation where we couldn't have fun. We just had to be disciplined and be serious about it. Exercises were hard but I had a lovely group and as the weeks went by it got easier for me as I was much fitter."
Hood got the biggest loser title, having lost 19.5 pounds.
"To achieve my weight loss, I had to cut back on my calorie intake, watch my portion sizes and eat a lot more vegetables. I also cut back on rice, pasta and bread. It wasn't necessarily a strict diet, which is good, because it would have been harder for me to be disciplined and this meant that I didn't have to change my family's diet as well," she said.
The Scotland native says she is a happier woman now and enjoys the support of her husband and two children as she continues on the health-conscious path.
"My husband never complained about my weight but right now he is happy with my accomplishment and my three-year-old says that my jelly belly is gone now," she said amused.
Paula Delves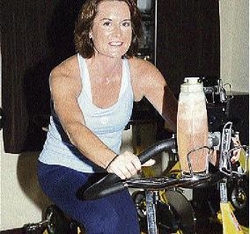 For the slimmer, trimmer Paula Delves, slacking off is not an option.
When Paula Delves began the camp, she did not know she would be the biggest loser from her group. All she knew was that she was tired of moping about losing her post-pregnancy weight, which she had been struggling with for the last seven years since the birth of her daughter.
At 42, Delves is ecstatic that she can still lose weight at her age, something a lot of people believe is almost impossible. She says before she became pregnant, she weighed 142 pounds and went up to over 200 during her pregnancy. She joined the camp weighing 158 and by the end had lost 15, 5.8 per cent of her body fat and 9.25 inches off her body. She continued working out and has since lost an additional three pounds.
"During boot camp we had to keep an exercise and diet diary which I plan to continue. You would be surprised to see what you put in your mouth when it is written down on paper."
She notes that the diary helped to keep check of the number of calories she consumed daily. So if she slipped up, though she felt guilty, she could make up for it the following day with extra work in her exercise routine.
She says the camp has changed her lifestyle and has taught her a lot about eating healthy and the importance of not starving herself. She now knows the importance of eating three healthy meals, on time, with two healthy snacks to help keep the fat at bay.
For Delves, the boot camp workout was no picnic, but she was determined. With the encouragement from her husband, Colm, friends and her instructor, she achieved her goal.
"Boot camp gave me the kick I needed to feel good about myself. Plus, I got to know my body."
She explains that the most challenging aspect of the camp was the time of day it was held (in the evening); before, she usually worked out in the morning. She also found the push-ups very challenging.
"I would rather run around a golf course than do a push-up," she tells Flair.
Delves says she plans on maintaining her new figure, so slacking off is not an option. She is also planning on joining the next boot camp.
Nicky Azan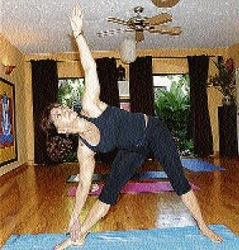 Nicky Azan is happy with her success and plans to continue on the healthy path. - photos by Ian Allen/Staff Photographer
After trying to lose 20 pounds unsuccessfully for three years, Nicky Azan is finally on her way to getting a fab body.
In just 10 weeks she lost 11.5 pounds, 13 inches off her body and 6.5 per cent of her body fat.
Azan tells Flair that what worked for her was the supervision and understanding of what she ate. "Knowing someone was going to weigh me regularly, and that I was part of a team, I didn't want to let them down. I learnt how many calories are in everything, sometimes by one o'clock I've had all my calories," she tells Flair with a smile.
Azan notes that 80 per cent of the process was understanding what she ate, although exercise was also important. In the mornings she walked to Mountain Spring then to Shakti where she would do a class; cycling, weights or yoga.
"We (the team) worked together. and I've changed the way I eat. Shakti gave me a book to write down everything I ate."
A week after the boot camp Azan is still on her way, having lost two additional pounds. "The whole boot camp was very useful, the most important thing was monitoring what I ate. My entire wardrobe looks good on me, I can wear all my clothes now. My middle section where everyone has a muffin has gone down. I now look better in everything I put on."