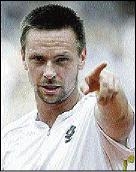 Soderling
PARIS (AP):
Robin Soderling knew he had to keep Rafael Nadal on the run if he was to have any chance of unseating the four-time French Open champion yesterday.
What seems incredible, though, is that it actually worked.
The big-serving, hard-hitting Swede pulled off one of the biggest upsets in Grand Slam tennis, ending Nadal's perfect record at Roland Garros with a 6-2, 6-7 (2), 6-4, 7-6 (2) win.
"I didn't want him to make me run. I tried to be the one that made him run," said Soderling, who had 30 forehand winners during the match on centre court. "I worked good with my forehand, and my backhand worked well, as well. I worked my backhand flat and tried to go around and hit my forehand."
On the move
Nadal had never lost at Roland Garros, heading into the match with a 31-0 record and four titles to his name. But while Nadal is known for getting to just about every ball hit to his side of the court - just ask Roger Federer about that - Soderling was able to keep the top-ranked Spaniard on the move throughout the match.
"I think I played exactly the way I wanted to play before the match," Soderling said. "I served well, extremely well and that really, really helped me today."
After losing the second-set tiebreaker and winning the third set, Soderling was broken early in the fourth. That's usually the point when most players crack, realising they have no chance against the best clay-court player of his generation. Not Soderling.
"During the whole match, I kept telling myself: 'This is just another match'," the 24-year-old Soderling said. "I don't care if it's the fourth round in (the) French against Nadal. This is just like any match. That helped me."
Although Nadal won't get the chance to break his and Bjorn Borg's record of four straight French Open titles this year, he seemed to take the loss well.
"I didn't play my tennis and for that reason I lose. That's it," said Nadal, who last year kept Federer from eclipsing Borg's record of five straight titles at Wimbledon. "I congratulate him and will keep working hard for the next tournament."
Out of sorts
Meanwhile, defending women's champion Ana Ivanovic was also most certainly out of sorts yesterday. Just what caused it remains a bit of a mystery.
Ivanovic was eliminated from the tournament at Roland Garros in the fourth round, losing easily to ninth-seeded Victoria Azarenka of Belarus 6-2, 6-3.
"I started really well and I felt really good in the beginning," said the eighth-seeded Ivanovic, who won her only Grand Slam title at last year's French Open. "Then after the third game, actually after (the) first point in the fourth game, I just suddenly started feeling so dizzy and I completely lost my balance.