Daggerin' and Kumina: Is there a link? Formal dancers disgruntled by comparisons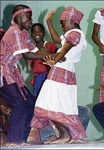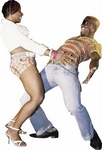 File photos
LEFT: Students of the Arcadia Primary School in St Thomas performing traditional Kumina.
RIGHT: Patrons perform one of the variations of 'daggerin' at Bembe at Weekenz last March.
LeVaughn Flynn, Entertainment Editor
It may have been a brief radio interview discussing the much-debated daggerin', but it drew the ire of noted dance academic L'Antoinette Stines when the controversial dance was compared to the African-derived religious practice, Kumina.
Daggerin' has gained notoriety over the past three weeks following public outbursts over its sexual overtones which have piqued the interest of adults and children alike. There are also several songs dedicated to the dance.
The Broadcasting Commission responded just over a week ago by banning the word and images of the dance as part of its drive to purge the airwaves of "inappropriate content".
Kumina, on the other hand, is a religious practice derived from Africa and includes dancing as one of its methods of worship.
Ridiculous comparison
For Stines, who is reading for her PhD in cultural studies at the University of the West Indies (UWI), Mona, and the founder of L'Acadco Dance Force, it's ridiculous that a comparison could be drawn.
"Daggerin' is absolutely nothing like Kumina," she told The Sunday Gleaner, her voice poignant with anger, as her students nodded in approval at her Vineyard Town studio. "You can't compare daggerin' with Kumina, which is a religious retention. You're disrespecting our ancestral elders."
To drive home her point, Stines summoned two of her dancers, Lawson Pinder and Yanique Stewart, to demonstrate the Kumina dance for The Sunday Gleaner. As they playfully waltzed across the wooden floor, Stewart's back facing Pinder, she gently bumps against him and he responds subtly.
Stines then interposed: "There is no thrusting in Kumina, no sexual connotation. Someone is trying very hard to legitimise daggerin'."
Last Monday on her morning radio programme, Jennifer 'Jenny Jenny' Small was discussing the daggerin' debate with Orville Hall, founder and artistic director of Dance Xpressions, and a judge on the television show Dancin' Dynamites, when he made the comparison.
Hall contends that daggerin' and dancehall are being judged by persons who are alien to the genre.
"There's no way you can not attend dancehall then describe what it is," he stated.
"There are movements in daggerin' that reflect movements in Kumina. Despite the name, daggerin' is not just about stabbing. Daggerin' has evolved. There are shoulder and neck movements and hand movements.
"I'm not saying it is Kumina, but some of the movements are similar."
Dancing is one aspect of Kumina, a religious practice that was started by enslaved Africans and indentured workers in the Congo, most of whom settled in St Thomas during the 18th century. Kumina also includes drumming, singing and chanting.
During Kumina, the practitioners pay respect to their ancestors and worship King Zambi, which is the name given to their God. The most common dance in Kumina is known as inching, where the feet are shuffled as the dancers move in a circular motion. It bears resemblance to the popular 'Sweep' dance but covers less ground with each movement.
DAGGERIN' NEVER POSTPONE
Close to the end of 2007, a dancehall promoter known as 'Jook' and disc jockeys Gary Chuck, Spready Glory and Little Richie were mulling over some dancehall trivialities on Pink Lane, Denham Town, Kingston. During this period, a trio of dances reeking with sexuality were impregnating dancehall - the infamous Dutty Wine, Hot Wuk and Drop Dead. All three also had corresponding songs which evoked the raunchiest versions of the dances when played.
With dancehall's ever-changing skin, a new dance was in order. Like the aforementioned dances, the title of the new dance would have to be as possessive as the move itself.
"We were just sitting down on the corner and we seh 'we need a new dance' and Jook just say dagger and it just develop in the streets. A him seh 'daggerin' never postpone'," said Gary Chuck, who played at the popular Dutty Fridaze street dance at Fletcher's Land in Kingston before it was discontinued by the police.
However, Little Richie said even earlier in 2007, up-and-coming deejays Bragga Dat and Charley Blacks were using the slang in songs.
"I would credit the start of daggerin' to Bragga; a him start it in a Jungle (Arnett Gardens) long before people start put it pon record," stated Little Richie. He said dancers of the MOB Squad and Shelly Belly helped popularise the daggerin' variations.
Daggerin' soon spread through the dancehall like a wildfire in a Californian forest, primarily because of the nightly street dances, such as Dutty Fridaze, in the inner city. From there it captivated the rest of the dancehall community, easily excited by the latest fad.
African heritage
Bragga Dat's Dagga Dat and RDX's Dagga Dagga were two of the earliest daggerin' songs. Later, Mr Vegas voiced Daggerin' on a mento rhythm last summer, perhaps, sparking the daggerin'/ Kumina comparisons. In the music video, Mr Vegas and his dancers are dressed in Kumina attire.
While admitting that much of the moves in dancehall are steeped in our African heritage, Professor Rex Nettleford, founding artistic director of the National Dance Theatre Company, pointed out that dancehall crosses a barrier that traditional dances don't.
"Most of the dances today are very much rooted in our African-derived dances (however) while you use the pelvis, it needs not be lewd," said the professor.
Dr Sonjah Stanley Niaah, lecturer in cultural studies at the UWI, Mona, argued that just as dancehall's dances have evolved from African dances, so too have dances from another popular music, reggaeton.
Censorship expressions
In her forthcoming book, One Dancehall: Performance Geographies from Slave Ship to Ghetto, Dr Stanley Niaah posits that:
"The conversations about daggerin' mirror those about dance styles such as the 'doggy style', or perreo, in reggaeton where expressions for its censorship have come from Puerto Rican and Cuban authorities," she said.
"Both dancehall and reggaeton dances have been linked into discussions of pornography, moral decay and public sexual display. This emphasis on body parts such as the hip and the sensuality depicted in dancehall dance moves are linked to a longer tradition of dance in Africa and its diaspora."
Similar to Stines, Neila Ebanks, lecturer at the School of Dance, Edna Manley College of the Visual and Performing Arts, and Hall's judging partner on Dancin' Dynamites, believes the "intent and purpose" of daggerin' and Kumina makes it unfair to compare the two.
"I don't think there is a parallel there especially because the intent and purpose of the movements are so different," Ebanks noted in a letter sent to Small and forwarded to The Sunday Gleaner after she heard Hall's comments. "At no point in Kumina will men spreadeagle a woman, jump on her and proceed to jab and stab away. Kumina's breaks are much more subtle than daggerin' could ever be."
"Even though our mento music and some of the social traditional forms (such as Dinki Mini) speak about sex, they were witty about it and used metaphor and such."
Reggae and its offspring, dancehall, were created out of rebellion and by nature pushes the boundaries of what is socially acceptable. Dancehall is characterised by flair, a strong sense of individualism and expressive language, and is seen and used as the poor man's medium. Hall said this a tough pill for many people to swallow.
"Every era we go into, there is some opposition about how inner-city culture develops," he said. "They need to try and understand the thing and the psychology of it."
Kumina tradition is very much alive today, with St Thomas boasting most of the island's Kumina groups. They are active during emancipation celebrations in August, and also practise their ritual at births, anniversaries and thanksgivings. Lenneth Richards, traditional folk forms specialist at the Jamaica Cultural Development Commission, said the agency finds a balance by embracing both traditional and popular forms of dancing.
"In our competition when they do the popular dance it doesn't have a sexual overtone because we have rules and we have a vast amount of young people in our competitions," she said.
"I've seen it (daggerin') done nicely and I've seen it done outrageously (and) there are similar forms of daggerin' in Kumina and Dinki Mini," she added.
Deeper issues
Differing views aside, Ebanks and Stines said they are concerned about a deeper social issue.
"Black History Month (February) should be a time when we are elevating our consciousness and reflecting on who we are as a people instead of figuring out whether daggerin' is good or bad," said Stines.
Ebanks stated: "It hurts my heart to see how people can rationalise what is, to me, a clear indication of the debasing way women are viewed, and how they view themselves, in our society."
Dr Stanley Niaah suggested that in the debate about dancehall's dances, they be examined in a historical context.
"Just as the Jamaican dancehall space has to be understood within a wider history and practice, so too the dance moves have to be located as historically embodied African/Caribbean diaspora practice. Jamaican, Caribbean and other African diasporan movement patterns have their histories in predominantly West African dance movement and the similarity in kinaesthetics, philosophy and practice is fundamental."
levaughn.flynn@gleanerjm.com





From left, Stines, Hall, Ebanks and Niaah.
Stines: Someone is trying very hard to legitimise daggerin'.
Hall: There are movements in daggerin' that reflect movements in Kumina.
Ebanks:I don't think there is a parallel there especially because the intent and purpose of the movements are so different.
Niaah: The sensuality depicted in dancehall dance moves are linked to … dance in Africa and its diaspora.