Chester Francis-Jackson, Gleaner Writer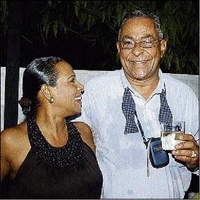 Dr Michael Banbury sidles up to Sophia Max Brown at his birthday party. - photos by Winston Sill
Dr Michael Banbury is at the top of his game - his game being the treatment of hundreds of patients who go to him in search of a cure for whatever ails them.
Over the years, Dr Banbury has learnt that in the eyes of an ailing patient, the doctor is 'God', meaning he/she should have the ability not only to diagnose, correctly, every ailment but to find a cure to make them well again.
It is a tall order but one that Banbury is cognisant of since he took the Hippocratic oath nearly three decades ago. It seems that Banbury has found that happy medium that makes him the perfect doctor. Not only do his patients swear by his healing skills, he has earned the status of near-hero worship among some.
'A doctor who cares'
Little wonder, as of the many patients he has attended to over the years, there's one refrain common to most - he is a doctor who cares. A distinction they make in commending him and his services as they pointedly stress that you will not be rushed out of his office in order for him to fulfil a quota. You will be attended to until your ailment is properly diagnosed and appropriate treatment prescribed.
If ever there was a do-gooder, Banbury most certainly qualifies for that moniker. A philanthropist at heart, he is very aware of the shortcomings and ills of the society in which he operates and, over the years, has, in his own distinct way, taken proactive steps to positively seek to redress some of those ills without fanfare.
It's this awareness and desire to make a positive impact on the lives of the most vulnerable that led him to establish the Astley Karl Banbury Foundation, named and founded in the memory of his late father. The foundation's mandate is to provide scholarships and bursaries to needy students who would otherwise fall through the social cracks.
Funded solely by Dr Banbury, the funds are made available to the various secondary institutions of learning that the children of the late Astley Karl Banbury attended. Namely, Kingston College, Meadowbrook, St Hugh's and Alpha Academy.
Impromptu birthday bash
Being mindful of the good doctor's commitment to the welfare of others, his dedication to his job as chief executive officer Medical Associates Hospital, a number of his friends decided that on his birthday, last week Monday, they would have a celebration. Banbury is not one to plan or organise a birthday celebration in his own honour so a number of his long-standing friends, known as 'Friends of Distinction' (including Oliver Magnus, Joshua Thomas, and Lennie Rose, along with Chris Bent) decided on hosting a very impromptu birthday party in his honour at The Durham in upper St Andrew.
Dears, there's nothing quite like an impromptu do to tell you just in what standing you are held by friends, family and or associates. In this respect, last Monday's celebrations for Banbury made it clear that he is not only a leading medical practitioner, but also someone held in very high esteem by family and friends who motored in from as far away as Montego Bay.
Fun-filled evening
No speeches either, just a number of toasts and anecdotal injections to create a fun-filled and laid-back do. It began at 6 p.m. and lasted just beyond midnight with a number of birthday cakes and a fine selection of music.
Among those sharing warmth in the festivities were Dr Banbury's children, Gabriel, Brittany and Zachary Banbury; his brother, Dell Banbury, and wife Yasanja; Robert Russell; Maxine Hogarth Spence; the illustrious Y. P. and Neil Seaton; James Samuels; Ian and Brenda Wong; the charming Jackie Cohen; Danville Walker; the gorgeous Sophia Max Brown and her sibling Carlos Max Brown; Jullie LeVanda; David Read; Barbara Potter; Leighton Sasso; the lovely Carol Rose; Michael Fox; Toni Bent; Errol Hanna; Audley Evans; Michael and Michelle Parker; Superintendent Tripper Grant; Jennifer Laing; Donovan Kong; Michele Lawrence; Les McNeil; Nicholas McNeil; Janice Rose; Tony Campbell; and Russell Magnus; plus a number of others.
Birthdays
It's definitely the sign of Libra with those born under the sign celebrating in nothing but fine style!
Dears, if y'all missed the absolute stunner of a black or white birthday do Ruth and Laurie Hussey hosted for their daughter, Angeline Hussey-Harris, at the Terra Nova All-Suite Hotel on Monday, then you missed the season's hottest and most stylish party.
Also celebrating birthdays this season, is preeminent jurist, Chris Bovell, who celebrated his birthday on Wednesday, the 7th.
Also celebrating on the 7th was socialite Tiny Stoppi.
Businessman Tanny Shirley celebrated on the 2nd.
Ian Garbutt celebrated on the 4th.
Opposition spokesman on tourism Dr. Wykeham McNeill will celebrate his birthday tomorrow, Saturday, the 10th.
Simone Walters-March will celebrate on Sunday, the 11th.
Nicolette Simpson, celebrates on Monday, the 12th. The fabulous Jennifer Stannigar celebrates her special day on Tuesday, the 13th.
Socialite and newly-wed Erica Anne Hamilton celebrates her special day next Thursday, the 15th.
As will former Negril habitué and leading member of that resort's in-crowd, the fabulous Jennifer Izzo, now in Canada.


Brenda Wong (left), chuckles at the antics of Tony Campbell and Maxine Hogarth-Spence.


Birthday boy Michael Banbury (right) and host Oliver Magnus chill with Michelle Hogarth-Lawrence.


The man of the moment, Dr Michael Banbury (right), with friends (from left) Christopher Bent, Neil Seaton and Donnie Kong.


Michael Parker is surrounded by beauty in the form of wife Michelle Parker (right), Michelle Hogarth-Lawrence (left) and Maxine Hogarth-Spence.