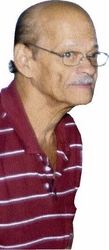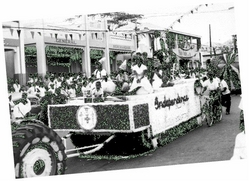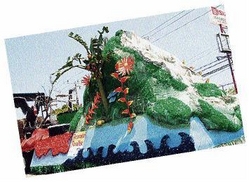 (1) Hugh Nash, chairman of the Jamaica Cultural Development Commission.
File photo
(2) 1962: A large crowd watches as the float parade passes through May Pen on Independence Day.
Contributed
(3) 2008: Return to Paradise created by Jambiz for the recent Festival Float Parade and Grand Gala.
Brian Bonitto, Editor - Overseas Publications
They have been around since Jamaica's independence in August 1962. No celebration is complete without the festival floats.
Even though they have grown in size and design, the purpose of these mobile purveyors of nationalism remains: display Jamaica's hopes and aspirations.
"They serve to heighten this spectacle with visual impact of national messages," said Hugh Nash, chairman of the Jamaica Cultural Development Commission (JCDC), which organises the annual Independence celebrations.
Remembering the floats
"I remember when they [the floats] were pulled by tractors, some were mounted on small pick-ups and small utility trailers," he added. "Tractors were the big thing at that time."
Nash has been involved with the festivities since 1964, when the float was led by Miss Jamaica, Carole Joan Crawford. There was no parade in 1963.
Nash said special arrangements had to be made in the early years for these unlicensed, heavy-duty farm equipment to be used on the roads.
"The traffic licences authority had to give permission by a temporary amendment of the regulation to use tractors and other motorised farm units on the streets," Nash explained.
"This is not necessary today."
Since trailers - the choice of vehicles in floats today - are licensed to use the roads there is no need for such allowances.
Floats are popular throughout the world. It is believed to have originated in the Middle Ages when churches used decorated wagons as movable scenery for plays.
Decorated barges
The name is reportedly derived from decorated barges which were towed along narrow waterways by parade marchers on the shore.
Nash said throughout the 1960s, due Jamaicans' inexperience at float-building, technical expertise had to be imported.
"Talents came in from former British colonies and Commonwealth countries as well as from firms out of New Orleans in the United States," he said.
Nash points out that technology has added a new dimension to the modern float. Back in the day, government vehicles announced their arrival.
"JIS vans with public address systems drove in front of the floats and made announcements as we went along," he recalled.
After a three-year absence, the float made a comeback last year.
Nash is optimistic it is here to stay.
"I'm quite confident they will continue as the visual impact is unquestionable and allows for illustrations of positive themes to be viewed by the audience along the route," he said.
In 1983, Hugh Nash was awarded the Order of Distinction Officer Class for his contribution to the development of festival. This was upgraded last Thursday to Commander Class.