Janet Silvera, Senior Gleaner Writer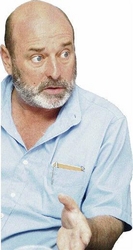 Kerr-Jarrett
The government-owned Montego Bay free zone is withstanding the global recession, and the offshore call centre service-oriented business park has run out of available space, spurring a bid by businessman Mark Kerr-Jarrett to cash in on the buoyant business by announcing plans for a second information and communication technology (ICT) business park in that city.
Kerr-Jarrett says his new Barnett Tech Park, located on 100 acres of former sugar cane lands in the Fairfield area of Montego Bay, complete with upscale town houses nearby for the park's managerial class, aims to reposition the city as the business and corporate hub of the region.
Government's go-ahead
It appears that Kerr-Jarrett has received government's go-ahead for a change of land-use for the entire former Barnett estate sugar lands, a carte blanche approval that was for decades withheld by the former government.
The Montego Bay entrepreneur, heir to the former Barnett Estates sugar plantation, who diversified the family business into non-traditional export crops and real estate development, said his Barnett Limited will be forking out $180 million to develop infrastructure for the new offshore business park and has signed up his first client, a company now operating in the Port Authority of Jamaica-managed Montego Free Zone. The firm is expected to buy 11 acres in the development and has a right of first refusal of an additional 7.5 acres.
"This shows confidence in Jamaica and a shared vision in the Barnett Tech Park and expanding the ICT industry in Montego Bay which is the favoured location," the businessman argued.
Another $176 million (US$2 million) is to be invested in building a call-centre training facility, a start-up centre and one million square feet of production space.
"We have been advised that a start-up centre is desperately needed where foreign companies can come into the start-up centre, which will have up to 50 fully functional (call centre agents), and test their services in the Jamaican environment," Kerr-Jarrett told Wednesday Business in explaining the idea behind his latest venture. "If they are satisfied with the results they then will have the opportunity to invest in larger spaces and set up their own operations."
The first 50 seats are being positioned as a mini model of the mega project that is slated to commence soon. The businessman estimates that, on completion, the project has the potential to create approximately 30,000 jobs in more than three million square feet of production space.
Offshore call centre boom
Industry sources say the offshore call centre boom might not continue indefinitely and could suffer fallout from measures now being put in place in the United States, and elsewhere, to discourage companies from moving businesses offshore. The image of the call centre business in Jamaica has also taken a battering as a result of the so-called lottery scam, built, it is believed, on stolen client personal data. The illegal activity is blamed for scores of deaths and the continuing gun violence it has spawned in western Jamaica, as rival gangs do battle for control of gains from the illicit business.
However Kerr-Jarrett is being encouraged by research coming out of Jamaica Trade and Invest (JTI), the state-run investment promotions agency, showing that the island is one of the leading call-centre destinations, providing competitive capabilities and value and achieving 10,000 seats in customer contact, business process, and information technology outsourcing.
Not simple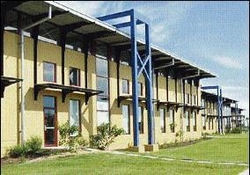 Architects' rendition of a building to be constructed at Barnett Tech Park, provided by KSBA Architects, Pittsburgh, Pennsylvania.
According to the JTI's knowledge services manager, Janine Josephs, Jamaica has the potential to have anywhere from 50,000 to 75,000 seats or full-time agents. However, she conceded that the marketplace was not as simple as it appeared.
"Companies such as e-Services Group/SITEL Caribbean have had a tremendous impact on the development of the sector, employing some 2,100 persons and processing over 20 million transactions annually," Josephs said. "Over the past three years, US companies of note have entered Jamaica. They including Fortune 500-ranked West Corporation and Verizon, as well as Vista Print."
Convinced that the timing of the park is right, Kerr-Jarrett said it was important for the sector to be poised to take on a bigger role when the global recession tapers off.
"When it ends, given Montego Bay's strategic location - it's near shore of the United States - it's time zone and the fact that we are an English-speaking nation, I believe that US companies will continue to look for ways to reduce their costs by taking their back-office operations offshore and near shore, along with their support services."
The JTI's Josephs concurs. She said that while converting existing interest to actual investments was not straightforward, it was a good time to target the market and invest in infrastructure to support foreign ICT-based business outsourcing here.
Lost a lot of business
"India, which is where the big demand was, is being viewed negatively, first because of the terrorist attack last year and one of their top five operators came under scrutiny and lost a lot of business. Investors are looking at the risk factor when they make decisions now," she said.
The Barnett Tech Park developer says he is also pursuing talks with an overseas contact-centre training institute, which he wants to set up operations here to train and certify call centre personnel in English and Spanish.
"We plan to include HEART Trust /NTA in the training programmes as well," added Kerr- Jarrett.
The move to establish another ICT park in the western city is being hailed as one that would change the dynamics and the demographics of Montego Bay.
Vector investment
"It has huge implications. MoBay is attractive because of its location, work-play proposition; it allows the best of both worlds," according to JTI's communications manager, Mark Thomas. "Mr Kerr Jarrett is very insightful and has recognised that the labour force would be in need of housing and has put this as a core part of his plan. It is a vector investment, there is no telling the spin-off."
The project will be rolled out in two phases. Phase one, encompassing the plans now being activated, will be concentrated on the western side of the Fairfield main road and the second phase, to be designed later, is expected to be located on the eastern side of the road linking Montego Bay's city centre with growing dormitory communities such as Granville, Pitfour, Irwin and Retirement.
Managerial housing
According to the developer, phase one will house the ICT park (Barnett Tech Park) and a high-density residential townhouse community on approximately 61 acres to service a portion of the managerial housing demand that will be created from the project. "Phase one will be, as far as possible, designed as an enclosed free zone where all the buildings will be separated by green open spaces," said the developer.
"Phase one has the potential to provide approximately 10,000 new jobs for Jamaicans and approximately J$3.2 billion in payroll and consumption taxes per annum," said Kerr-Jarrett.
Over the last ten years, Barnett Limited has undertaken several property developments including the Westgate Hills housing estate with 800 high-income house lots; the Clock Tower and Miriam Way commercial centre; phase one of the Fairview Shopping Centre, with a second phase now under construction; and the Fairfield Commercial Centre, a 23-lot industrial and commercial park located next to the Bogue Industrial Estate and JPS Bogue power station.
janet.silvera@gleanerjm.com